Come and join us this summer and create your own European experience!
Program Highlights
Universität Heidelberg faculty
Homestays with German families
Study trip to Berlin
German Rail Pass for weekend travel
Image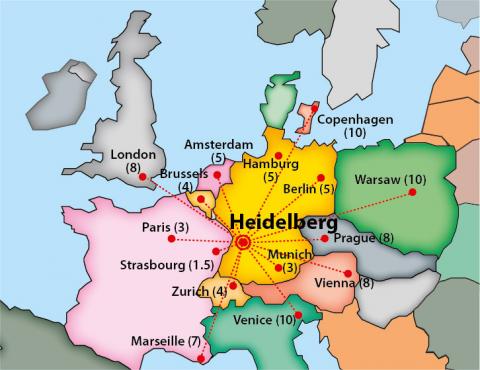 Academics
Based on your current language ability and placement scores, you will enroll in one of three available German language courses (GER 100, 200 or 300). All students will also take a seminar course focusing on topics such as contemporary culture, politics, history and economics in Germany and Europe. Students can earn nine credits in the summer term. See our course descriptions.
Eligibility and Admissions
To participate you must be enrolled at a U.S. college or university and have a cumulative grade point average of at least 2.75. There is no German language prerequisite for the beginner level, but one semester of German is recommended. The application form must be submitted by March 1 (extended to March 15). A non-refundable deposit of $25 is due with the application. This fee may be waived for colleges and universities that have a formal affiliation with Heidelberg University. Contact your institution's study abroad advisor to determine whether this is the case for your school.
Apply early and save! Reduce your program fee by $100 when you apply by March 1 and confirm your participation by April 1.
Consult these instructions to help you with the required application documents and submit the application (see Download Application button at bottom of this page). If you have any questions, please contact us at ajy [at] heidelberg.edu.
Already admitted? Make sure you complete all the required forms. 
The program fee of $6,780.00 covers: 
Tuition 
Accommodations with host families 
Full meal plan
Airport pickup by AJY staff 
Heidelberg public transportation pass 
Individual travel vouchers (e.g. German Rail Pass) 
Excursions and cultural events, including a study trip to Berlin 
Liability insurance 
An official transcript
Not included in the program fee are the transatlantic flights, books, health insurance, and personal expenses (shopping, souvenirs, etc.) Students should discuss financial aid opportunities with the study abroad advisor on their home campus. Bills are sent by April 20 and payment must be received by May 1.
For any matters related to tuition payments, please contact bgabel [at] heidelberg.edu (Barb Gabel).
Summer Program Fee Adjustment: No charge will be made to students who withdraw from the program before April 20.
Program Cancellation and Changes: Heidelberg University reserves the right to cancel the program and to make changes or alterations to the program and/or program itinerary at any time as may be required due to emergencies (including natural disasters or acts of terrorism), changed conditions, or because of the University's determination that such cancellation, changes, or alterations are in the best interest of the program or its participants. Heidelberg University is not responsible for cancellations, changes, or alterations of programs by the host institution in Germany. Heidelberg University shall have no liability to any participants, their parents, or any other third party for the cancellation of the program or any changes or alterations to the program.