Housing
AJY student rooms are located in university dormitories throughout the city or in private, student-only dormitories. All rooms are single occupancy, and dorms are co-ed. A limited number of studio apartments is available.
You have the opportunity to list your dorm preferences when completing the housing form. Once the university student housing office informs us of your assignment, we will forward your dormitory address to you approximately one week before your arrival in Heidelberg. Your room will be available to you on your official arrival day up until the last day of the program (as posted in the official program and semester dates). Extended fall and full year students keep their rooms during the holiday break in December. Full year students also keep their rooms during the break between semesters (mid-February to mid-April).
Image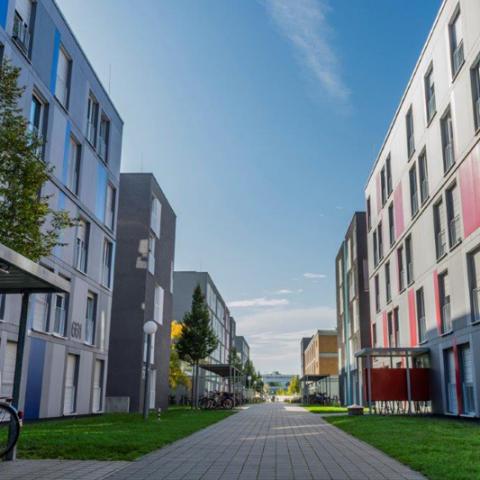 Meals
Unlike cafeterias on your home campus, German cafeterias offer no meal plan for the semester. Instead, you purchase each meal individually and pay with your student ID card. The three large cafeterias, two near the AJY Study Center, offer reasonably-priced breakfast, lunch and dinner. The current daily menu is available online.
In addition, many ethnic restaurants, cafés, and fast-food places can be found in the Old Town around University Square. Students who prefer to cook can do so, as all shared apartments are equipped with a kitchen.
Image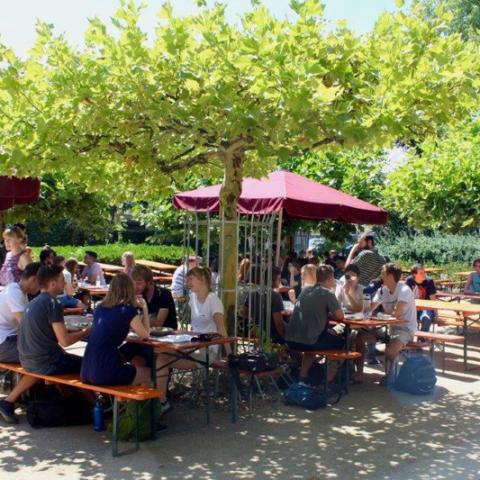 Exploring Europe
You will find yourself working hard for your courses at the Universität Heidelberg, but you will still have plenty of time to travel. Most of our students travel on regularly on weekends, holidays, and during the long break between semesters to explore Germany and Europe. Heidelberg's central location, in combination with Germany's excellent transportation infrastructure, make it an ideal 'home base' for travel. In only a few hours, you can reach most major European cities by bus or train.
Heidelberg is also conveniently located near Frankfurt International Airport as well as Frankfurt-Hahn Airport, a major hub for several budget airlines. Thanks to the multitude of affordable transportation options, Heidelberg is a convenient starting point to travel anywhere you choose.
AJY staff is always happy to provide advice on travel destinations or assist you with making arrangements and finding you the best deals on travel.
Image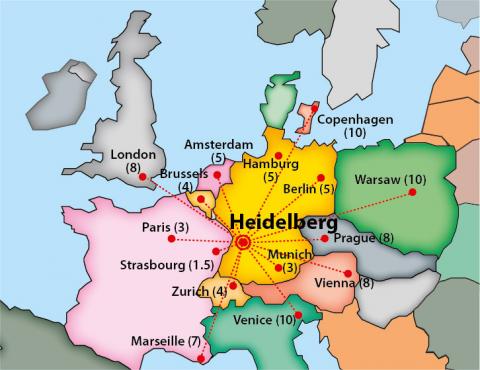 Homestays
You will live in well-equipped university dormitories during your entire stay in Heidelberg. However, short-term homestays (one to two weeks duration) with German families are available for full year and full semester students who wish to experience life with a German family. Typically, these homestays take place during the holiday season in December or during the break between the fall and spring semester. AJY cooperates with 'Das Experiment', a German non-profit organization that offers homestays throughout Germany. These homestays are available at virtually no charge to the student and are highly recommended by students who have participated in the past.
Students who are interested in a homestay should consult the Experiment e.V. website. Please be sure to contact AJY (ajy [at] uni-heidelberg.de) well in advance of the start of the program to ensure placement with a family.
Get Involved
Universität Heidelberg Student Senate (Studierendenrat, StuRa) offers a list of links to non-academic clubs and activities, such as athletics, choir, volunteer work, orchestra, cooking class, religious life, etc. Extracurricular activities are an excellent way to immerse yourself in German culture and are highly recommended. Program staff is happy to assist you in finding a suitable activity for you based on your interests.
Other Local opportunities