Martin Kley, Ph.D.
Resident Director
m.kley [at] uni-heidelberg.de, mkley [at] heidelberg.edu
Martin Kley studied at the universities of Augsburg, Pittsburgh, and Texas at Austin. Following his Ph.D. in German Studies, he was Assistant Professor of German at Gettysburg College from 2008 to 2013. Upon returning to his native Germany, Martin served first as Academic Director and then Center Director for CIEE's Global Institute Berlin. Combining his pedagogical and scholarly background with administrative experience in the field of international education, Martin works with AJY participants in various capacities – as teacher, academic advisor, mentor, and liaison to the University of Heidelberg.
Image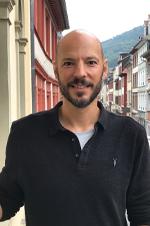 Cara Burmedi, BS
Program Coordinatorburmedi [at] stud.uni-heidelberg.de ( 
)class="spamspan" style="box-sizing:border-box; min-width:0px; min-height:0px; color:#e45424; text-decoration:none"
Cara Burmedi is currently pursuing her Master in Geography at the University of Heidelberg. As a German American, her research interests primarily include the United States and social and cultural geography. She spent a high school semester abroad at the Conserve School in Wisconsin and a year abroad at St. Mary's College of Maryland. In her capacity as Program Coordinator, Cara works closely with the Resident Director in helping students find their bearing in Heidelberg outside of academics. She enjoys sharing her hometown with the students and showing them all the possibilities a semester abroad in Heidelberg can bring them. Additionally, Cara oversees alumni relations and AJY's social media presence.
Image
Michaela Escher-Eisel 
Adjunct Faculty
m.escher.eisel [at] web.de
Having studied German language and literature, and European Art History, Michaela Escher-Eisel received her Magister Artium degree from the University of Heidelberg. She teaches German as a second language at a variety of institutions and companies. She helps students prepare for language level placement tests, such as the DSH assessment here at AJY. As a trained guide, with a certificate from the German Association of Tour Guides, she also leads educational excursions in and around Heidelberg. Her educational background allows her to provide extensive information with regard to history, art, literature, and music, as well as the city of Heidelberg as a modern center of scientific research.
Image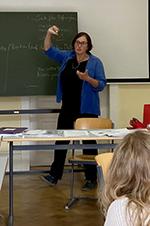 Oksana Lustenhouwer
Adjunct Faculty
Oksana Lustenhouwer hails from Ukraine. She holds a Master's degree in Germanistik from the University of Bamberg and is currently writing a dissertation in German as a Foreign Language at Uni Heidelberg. In addition to teaching courses at AJY, Oksana teaches German language at the Uni's Internationales Studienzentrum (ISZ). She is also co-founder and CEO of the German-Ukrainian educational foundation "Freundschaft kennt keine Grenzen e.V." and author of the miniseries "Invitation to Ukraine" for students of Ukrainian language. She absolutely loves teaching language and is extremely devoted to the progress of her students.
Image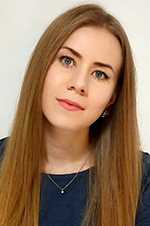 Verena Zimmer
Adjunct Faculty
Verena Zimmer teaches German Language and History at AJY and the Uni Heidelberg's International Study Center (ISZ). She holds a Master's degree in Germanistik and History (University of Trier), has worked in journalism, and is also a certified Heidelberg tour guide, allowing her to bring her courses to life through regular (and excellent) co-curricular excursions. Her motto: "Da ist mehr als du siehst!"
Image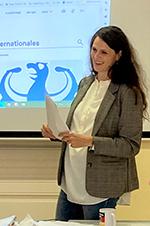 Julia Pinkow
Program Assistant
Julia Pinkow started as the AJY Program Assistant in February of 2002 and has since become an invaluable member of the team. She is pursuing her B.A. in Geography and English with the goal of teaching these subject in High School. In her role as Program Assistant, Julia helps students get to know Heidelberg and university life, plans and participates in excursions and events at the AJY Study Center, and assists Martin and Cara in running the Center. Julia is planning to study in the U.S. for a semester next year, and we are currently deciding on whether or not to let her go.
Image
Amy LoConti
Administrative Assistant for the Owen Center
Amy is a 2007 graduate of Heidelberg University (Tiffin, Ohio), with a degree in communication and media. She returned to campus in 2020 to work in the Owen Center for Teaching and Learning as an administrative assistant. In 2022 she added the role of Coordinator of Study Abroad and AJY to her portfolio. Before returning to higher education, Amy worked in travel for 10 years and is excited to continue to share her passion for travel with current and future students.
Image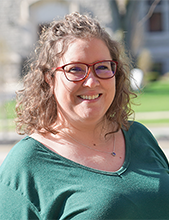 American Office
American Junior Year at Heidelberg University
Heidelberg University
310 E. Market St.
Tiffin, OH 44883-2462 USA
Telephone: 419-448-2301
Toll-free telephone: 1-800-925-9250
Fax: 419-448-2217
ajy [at] heidelberg.edu
Amy Hammitt
ahammitt [at] heidelberg.edu