Biochemistry is the study of living organisms and their biological processes. You will study macromolecules such as carbohydrates, lipids, nucleic acids, and proteins. Students interested in both chemistry and biology can find a great compromise with a major that bridges the gap between the two and overlaps molecular biology and genetics as well. Practice research techniques, understand data interpretation, and dig deeper into an exciting field of science.
Proven Success
Heidelberg biochemistry majors have an outstanding record of success, which includes both employment and graduate school.
100%
biochemistry major placement six months after graduation
84%
placement rate into medical schools
3x
Chem Club earned an Outstanding Award from ACS
Dani earned her Ph.D. from Brown University through the five-year chemistry Ph.D. program working on inorganic projects with an environmental impact.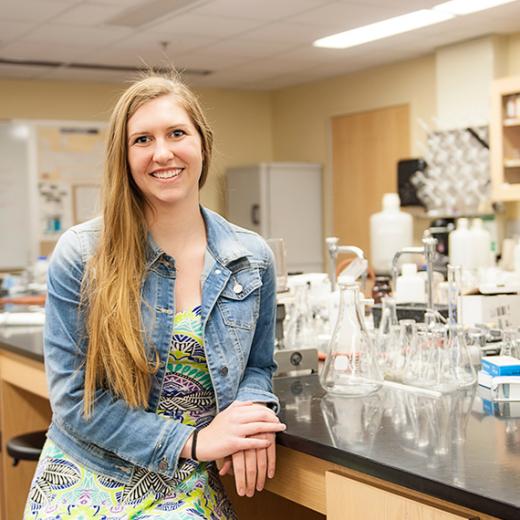 Dani Blum '17
Based on the education Heidelberg gave me, I grew confident in my ability to solve problems. I learned how to be an independent researcher.
Careers in Biochemistry
There are many different paths you can take when you graduate from Heidelberg with a degree in biochemistry. Some of our students seek jobs right after graduation while others enter graduate programs in both biochemistry and biochemistry-related fields. You could also pursue other professional fields such as medicine, pharmacy, engineering, or business. What kinds of jobs are out there? You can find biochemistry majors holding a variety of jobs including crime lab analyst, biochemist, molecular biologist, pharmaceutical researcher, physician, forensic scientist, and biotechnologist.