Experience German Language & Culture
American Junior Year (AJY) offers students an opportunity to study at Germany's oldest university, Ruprecht-Karls-Universität Heidelberg (est. 1386). The university is consistently ranked in the Global Top 50 by Times Higher Education and has been designated one of 11 "Universities of Excellence" by the German government. It is associated with over 50 Nobel Laureates and maintains partnerships with many famous institutions of higher learning such as the University of Cambridge in England and the Sorbonne in Paris, France. Located in the picturesque town of Heidelberg, the university is committed to serving its motto Future since 1386.
The American Junior Year Program was founded in partnership with Universität Heidelberg in 1958, making it one of the oldest American study abroad programs in Germany and the oldest exchange program of its kind. As such, AJY has over 60 years of experience in providing academically rigorous and personally rewarding study abroad experiences to its students.
More Information
---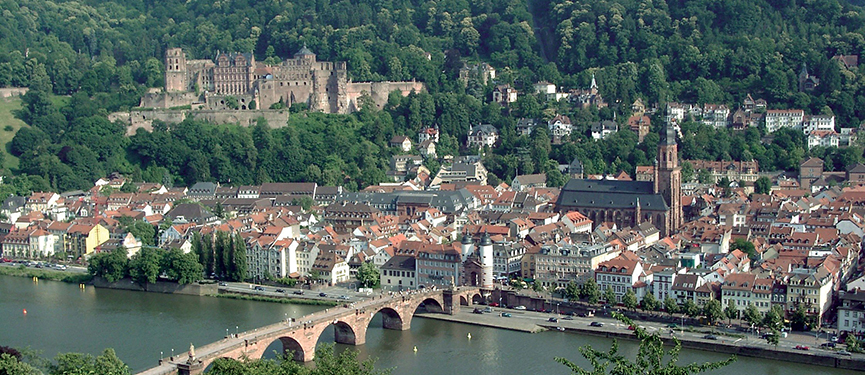 ---
As Germany's oldest university, Universität Heidelberg enjoys a proud heritage of academic excellence. It is consistently ranked first or second place among German universities. The university's excellent reputation has also attracted world-renowned research institutions such as the German Cancer Research Center (DKFZ), the National Center for Tumor Diseases (NCTS), the European Molecular Biology Laboratory (EMBL), as well as three Max Plank Institutes (MPI) in the areas of Medical Research, International Law, and Astronomy.
Universität Heidelberg's wide range of study programs makes it an attractive choice for students from all over the world: over 5,000 of the university's roughly 30,000 students are international students. With an overall population of 150,000, Heidelberg is heavily influenced by the university, which is an integral part of the local cityscape. Having grown and expanded over centuries, Universität Heidelberg's departments are spread across town, beginning with beautiful historic libraries on Heidelberg's central "University Square," and stretching across the Neckar river to highly modern, state-of-the-art research facilities.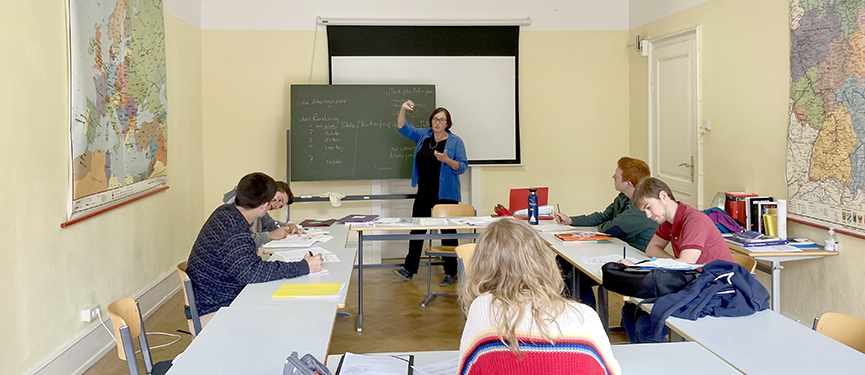 ---
Universität Heidelberg is a large research university and offers its students a broad spectrum of disciplines across the humanities, law, and social sciences as well as natural and life sciences and medicine. Every semester, over 100 university departments offer a multitude of lectures and seminar-style courses. Students interested in pursuing a study abroad experience in Heidelberg will undoubtedly find coursework that is suitable for them given their academic background and preferences.
Learn more about AJY study abroad program options, coursework, and internships.
---
Students coming to Universität Heidelberg benefit from an authentic German academic experience in the heart of Europe. Heidelberg is one of Germany's most beautiful cities. The large student population affords it a youthful and dynamic atmosphere with many cultural and extracurricular offerings to enjoy. All AJY students become fully immersed in Heidelberg's culture during their stay and can take full advantage of all the city has to offer: Whether you enjoy visiting museums, shopping along Heidelberg's famous "Hauptstrasse" (main street), or playing frisbee on the banks of the Neckar river, there is much to see and do.
Drawing on over 60 years' experience in study abroad, AJY is committed to facilitating an authentic and rewarding experience for all of its students during their stay in Heidelberg. Learn more about student life, including housing arrangements, meals, and extracurricular activities.
---
Image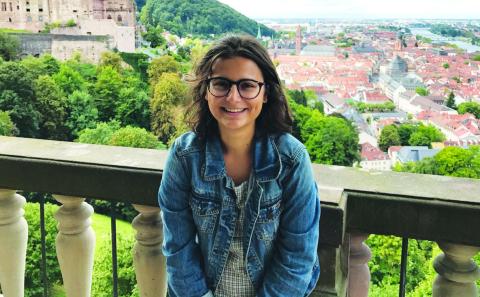 Bernadett Molnar, AJY FYR 17/18
"My study abroad experience at AJY Heidelberg is a really special one. I met so many people and experienced the German culture in a way that I never would have if I had not studied abroad in Heidelberg."
Contact Us
If you would like a Program Brochure mailed to you, or have specific questions about the AJY Program, contact our American office:
Phone: 419-448-2301
Email: 

ajy

[at]

heidelberg.edu

(subject: American%20Junior%20Year)

  
Social Media: AJY on Facebook
For specific questions regarding academics or student life in Heidelberg, contact Martin Kley, AJY Resident Director by phone Monday through Friday mornings 9 to 12 EST.
Phone: 011-49-6221-23874
Email: 

ajy

[at]

uni-heidelberg.de

(subject: American%20Junior%20Year)