The RN-BSN Completion pathway provides the opportunity for licensed nurses to obtain a BSN in a friendly and flexible online environment. It is designed to meet the needs of adult students who have employment or perhaps family commitments.
The program is project-based to encourage meaningful learning and immediate application of new knowledge and eliminate busy work that may or may not contribute to learning.
You will complete eight online baccalaureate nursing courses taught via Heidelberg faculty; two of which include a convenient clinical component. Courses are engaging through online activities that include, but are not limited to, in-depth discussions, intraprofessional and interprofessional collaboration, pandemics and global health, and correspondence with local and national lawmakers to influence change that affects healthcare and the nursing profession.  
Image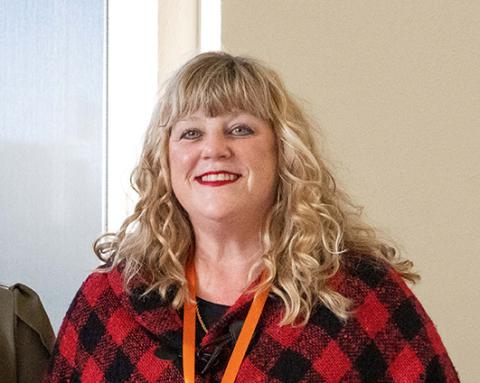 Beth Brown '22
Heidelberg's RN to BSN program reignited my professionalism and passion for nursing. The online platform gave me the flexibility I needed to accomplish my goals as a working professional Registered Nurse. Heidelberg's nursing program gave me both a professional and personal boost in confidence: after thirty-plus years I have no more fears. I am grateful for the doors that have opened as a result of this experience and the relationships built along the way."
Curriculum
Admission Requirements​
•  Unencumbered Registered Nurse Licensure
•  College Composition
•  Statistics or algebra
•  Bio 121 and 122 ( A & P) with labs
Deferred tuition payment is available if the students receive Employer Tuition Assistance.
Prerequisites for Nursing Courses
(may be taken at Heidelberg or transferred for credit)
•  Chemistry - 1 course, with lab (if less than 2 years of licensed nursing practice by completion of the nursing courses)
•  Microbiology
•  Ethics
•  Psychology: General, Developmental or Lifespan
General Education Requirements
Students need an additional must earn 32 credits hours of Humanities/Fine Arts: 
         •  6 general education credit hours must be earned at the 300/400 Level in residence
Post-Licensure Nursing Courses Online
We offer rolling admissions: Fall, Spring, and Summer semesters. To complete the nursing courses within one year, the following schedule is suggested:
Two 8-week courses per term; two terms per semester
Semester 1
•  NRS 400 – Theoretical Foundation of Nursing
•  NRS 410 – Legal & Ethical Issues in Nursing
•  NRS 420 – Healthcare Technology & Informatics
•  NRS 430 – Research & Evidence Applications (Capstone)
Semester 2
•  NRS 440 – Communication, Population, & Global Health*
•  NRS 450 – Interprofessional Roles in Global Health
•  NRS 460 – Health Policy & Advocacy
•  NRS 470 – Leading & Managing Healthcare Teams*
* = clinical course
Post-licensure nursing students are exempt from the HYPE Career Ready Program, but are welcome to participate in speaker events.​