Can I double major and still participate in the Honors Program?
Yes. The Honors Program is designed to fit with Heidelberg's curriculum so you are not penalized by joining the program. On the contrary, our honors students tend to be the most involved on campus and frequently double-major, study abroad, and get involved in athletics, service, and clubs.
What are the seminars?
Honors seminars fall under one of four categories (the Scientist, the Artist, the Citizen, and the Scholar). They are interdisciplinary, student-driven courses that reflect both student and faculty interests. Examples seminars include Plagues in History, The Art of Stand-Up Comedy, Strategies in Negotiation, Harry Potter and the Scholarly Pursuit, Chemistry in Sports, and Women in Music.  
What recognition do Honors Program graduates receive?
All students who complete the Honors Program requirements receive an Honors Diploma and a transcript notation as proof of this accomplishment. Also, students will receive distinctive academic regalia to wear at commencement ceremonies.
Is there special housing for honors students?
Yes. Any student in the program has the option to sign up for a room in the honors community pod in Talmage Hall.
Can I study abroad and be an honors student?
Of course! We encourage all students to take advantage of Heidelberg's study abroad programs and even offer a unique study abroad opportunity exclusively for honors students at the University of Glasgow in Scotland.
Image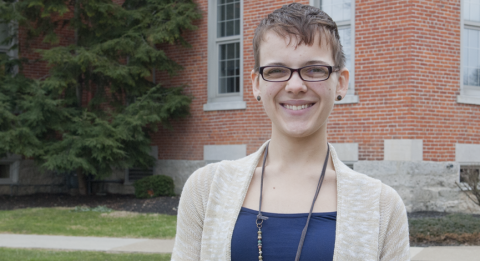 Judy Smith '18
My experience at Heidelberg would not have been complete without the honors program; it helped me develop hard and soft skills that I will use throughout my life and career.