Real Hands-On Learning
Nothing can replace real hands-on experience. Our Animal Lab provides you with unique research and lab opportunities that will impact your career success. The Longaker Animal Lab was established to provide student with hands-on experiential learning opportunities. Mostly used for housing a rat colony, the lab also has facilities for frogs, crickets, and mice depending on student research needs.
Image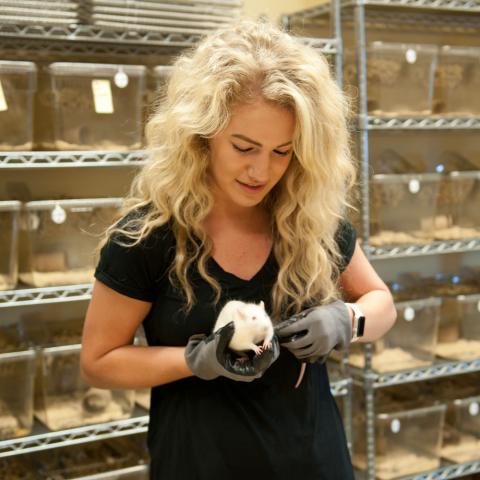 Andrea Russell '19
The animal lab was huge for my success in graduate school. I was a part of so many interesting projects that gave me such great experience with getting started in animal care. It gave me a leg up in veterinary school.
How to Get Involved
Biology 363: Human Anatomy and Physiology
This course utilizes rats as a model to study female reproductive hormones. Students in this lab have the opportunity to provide routine care to the rat colony, and help to monitor their well being under the direction of the Animal Laboratory Coordinator.   
Honors 455: Senior Honors Project
Biology, Chemistry and Biochemistry students who are in the Honors Program have often chosen an animal project as their Senior Honors Project. Students in other academic areas are encouraged to propose animal projects to the IACUC.  Projects are typically funded by Hammel and Pepsi grants. Projects have included the measurement of basal metabolic rates in pregnant and lactating rats, wound healing facilitated by a new type of patch, mouse maze navigation, and the effect of alcohol on maternal behaviors. 
Course Honors Projects
With faculty permission, students in BIO 363 or 364 can sign up for course honors and do a project of 30 hours of effort. Such projects include investigating herbal contraceptive use in rats, alternate enrichment devices (toys) for rats, and development of an edible treatment containing treat for herbal studies. 
HYPE 300/400 Credit
Under the direction of the Animal Laboratory Coordinator, a limited number of students can get more involved with the rat colony, and can take part in record keeping, development and implementation of breeding calendars, support for on-going research projects, serving on the IACUC, prospective student tours and the supervision of student volunteers. These resume-building experiences are especially helpful for pre-veterinary students.  
Volunteer Hours
Students can request volunteer hours in the Animal Lab assisting with the routine tasks and/or serving as junior researchers on another student's project.