In the spring of 2010, The John and Patricia Adams Foundation created and funded a new lecture series at Heidelberg University, John's alma mater, to bring to campus exceptional female speakers from a broad spectrum of personal and professional backgrounds. The purpose of the The Patricia Adams Lecture Series is to introduce Heidelberg students, twice annually, to talented and accomplished women who have had a significant impact in their community or career field.
In creating the lecture series, John and Pat sought to provide extraordinary opportunities for all Heidelberg students, graduate and undergraduate, as well as faculty and staff, and the broader Tiffin community. The first lecture in the series was held in September 2010 and coincided with the grand opening of Adams Hall at Heidelberg University, home to the new School of Business. The lecture series is named to honor Pat Adams' long-standing loyalty to and passion for Heidelberg University, her tireless philanthropic spirit, her values of education and leadership and her desire to leave a legacy at the university that has meant so much to both her and John throughout their lives.
After changing her major several times, Bobbi was inspired by The Patricia Adams Lecture Series to look into business. After graduation, she opened up the Spotted Cow Coffeehouse, which employs adults with disabilities.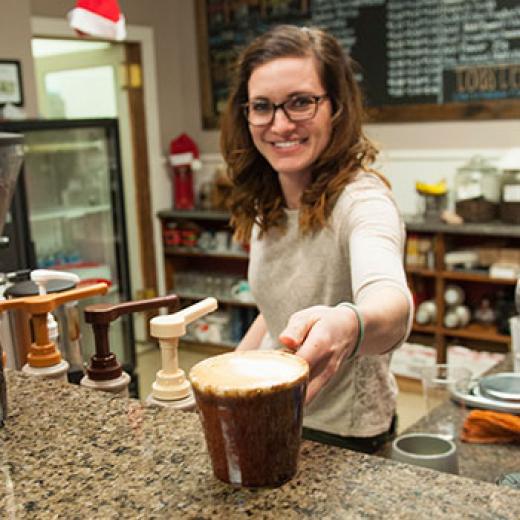 Bobbi Custar '14
The Patricia Adams Lecture Series gave me the opportunity to see strong women in business. I thought this was something I could do. So I asked myself, 'What are my passions and what can I put together to give others opportunities?
Past Speakers
Fall 2022: Kristin Chenoweth
Spring 2022: Janet Campbell
Fall 2019: Mrs. Laura Bush & Barbara Pierce Bush
Spring 2019: Beth Shissler, '90
Fall 2018: Kelli Masters
Spring 2018: Monica Lozano
Fall 2017: Brandi Powell
Spring 2017: Susan Graber
Fall 2016: Major General Gale Pollock (retired)
Spring 2016: Bridgette Heller
Fall 2015: Sheila Heen
Spring 2015: Carla Harris
Fall 2014: Jackie MacMullan
Spring 2014: Cheryl Krueger
Fall 2013: Dr. Deborah Mielewski
Spring 2013: Jerilyn Medrea, '77
Fall 2012: Donna VanLiere
Spring 2012: Ann M. Fudge
Fall 2011: Carol-Lynn Parente
Spring 2011: Betsy J. Bernard
Fall 2010: Sherron Watkins