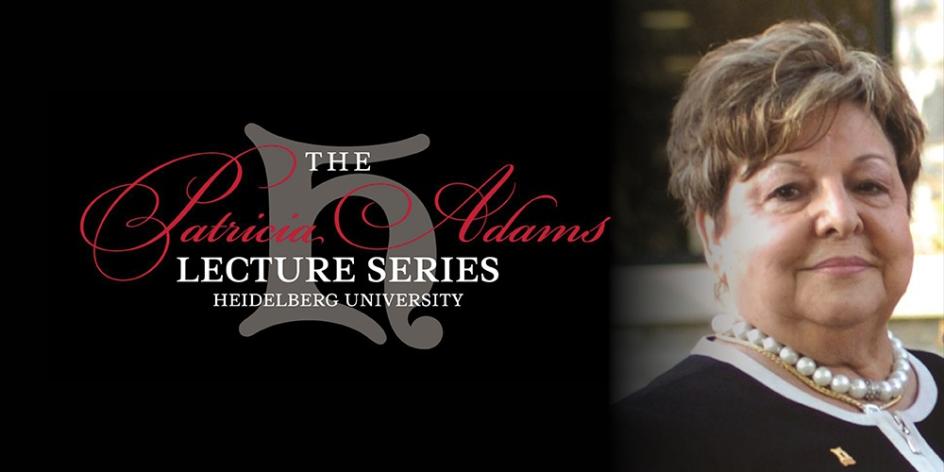 Following is a message from President Rob Huntington, announcing the recent passing of Patricia L. "Pat" Adams, the creator of the successful Patricia Adams Lecture Series at Heidelberg.
---
Dear Heidelberg Community,
With an extremely heavy heart and profound sadness, I want to share the news of the passing of Patricia L. "Pat" Adams on Friday, February 10, 2023.  Pat had faced many health challenges over the past couple of years.  An enthusiastic champion for Heidelberg students, she had a heart the size of Texas, an ocean of kindness, and absolute dedication to her family.  Pat's beloved husband, John Q. Adams '58, served on the Heidelberg Board of Trustees from 2007 to 2015.
In practically every conversation with Pat, it was abundantly clear the value she placed on education and leadership throughout her lifetime.  A tireless philanthropist, she was influenced by the strength of her mother and her grandmother, who raised her in Dover, Ohio.
Pat and John met in high school.  While John attended then-Heidelberg College, completing his degree in 1958, Pat worked at the Tiffin Glass Factory and later, kept the books and payroll for Baylor Pharmaceuticals, one of John's companies.  She has always labored faithfully with John in his various entrepreneurial ventures.
While business was an integral part of her life, Pat was a master at balancing work and family.  One of three daughters raised in a close-knit Italian Catholic family, she had been actively involved in her church.  She promoted her love of education and family through her various roles in the PTA, Adopt-a-Family, and Heidelberg, which was near and dear to her heart.
Our Heidelberg community will be forever grateful to Pat for the legacy she left to all of us through The Patricia Adams Lecture Series (PALS), which she created 13 years ago, with John, in 2010.  Pat had long held a vision to create a program at Heidelberg centered on empowering women.  The 22 exceptional women leaders from a broad cross-section of professional backgrounds who have been guests of PALS have demonstrated passion, ambition, imagination, and purpose.  Our students have been the true beneficiaries – just as Pat envisioned.
Every fall and spring, Pat looked forward to returning to Heidelberg for PALS events.  Although it was out of her comfort zone, she took great pride in formally introducing each keynote speaker during the PALS dinner and keynote presentation.  Her daughter, Sherri Adams, will pick up the mantle in representing her mother at future PALS events.  
For all of the impact that PALS brought to Heidelberg students, the series was perhaps more profoundly rewarding and personally meaningful to Pat herself.  On the milestone 10th anniversary of PALS in 2019, Pat reflected on the many ways the series had surpassed all of her expectations in its first decade.  As we prepared to host former First Lady Laura Bush and her daughter, Barbara Pierce Bush, Pat spoke of the great sense of pride and satisfaction she had about the impact of PALS.  "When I think back to that little girl in Dover, if my mother were alive, she'd say, 'Oh Patty Lou, you did so well.'"  Pat also was quick to express her gratitude to Heidelberg for supporting PALS and her vision.
The symbolic yellow roses that decorate each dinner table at PALS events will forever remind us of the gift Pat gave to Heidelberg and all of us through PALS.  We will never be able to fully express our enormous gratitude.
Pat and John have been extremely generous to Heidelberg over many years.  In addition to funding PALS annually since its inception, they were leading donors for the Adams Hall renovation (2010), the Hoernemann Stadium construction (2014), and the Pfleiderer Hall restoration (2018).  Together with the Adams Family Foundation, Pat and John individually are members of the Berg Builders & Benefactors 1850 Society Student Prince Circle for lifetime giving of $2.5 million to $5 million.  
I was lucky to meet Pat sometime during the months before I started my job at Heidelberg in July 2009.  She was instantly gracious, kind, and grateful.  I learned early on that one of Pat's greatest strengths was her voice of confidence and encouragement in support of others.  In response to anything that I might have asked her about, I will miss hearing Pat say in rather hushed tones, "Rob, I think that you should … you can do it."  She always made others feel successful, especially our female students who served on the PALS Speaker Selection Committee.  
As a community, please join me in extending our most sincere condolences to the entire Adams family.  In addition to John, Pat is survived by two children, Sherri and John Jr. A third daughter, Cindy Adams, is deceased.  Additionally, two sisters, Jo Ann Saffell and Dianne Coulter, survive; Dianne's granddaughter, Sarah Grosse, is a current first-year student at Heidelberg.  They have eight grandchildren and ten great-grandchildren with another great-grandchild on the way.
The Bluebonnet Hills Funeral Home & Memorial Park in Colleyville, Texas, is assisting the Adams family with arrangements.  Visitation will be on Thursday, February 16, from 5-7 p.m. at the funeral home.  The funeral service will be Friday, February 17, at 10 a.m. at White's Chapel United Methodist Church in Southlake, Texas, with a gravesite service to follow at noon at the Bluebonnet Hills Memorial Park.  John and the Adams family are asking that memorial gifts in Pat's honor be made to The Patricia Adams Lecture Series at Heidelberg University.
On Friday evening after Pat passed away, I attended the Heidelberg play Les Liaisons Dangereuses in Gundlach Theatre.  By my rough count, Pat and John sat in our theatre nearly 40 times together for the PALS speaker sessions in the mornings and afternoons.  When I saw the two seats they normally sat in (top back row on the left side upon entry), I put my overcoat on John's aisle seat and my scarf with the program on Pat's seat.  I took a photo and sent it to my wife, Susan McCafferty, and to Ashley Helmstetter, because they partnered so closely with Pat on the PALS Speaker Selection Committee for the past nine years.  Then I sat next to Pat and watched the play.  Susan told me that the photo made her cry.  Me too.
Thank you, Mrs. Pat Adams … always here at Heidelberg University.
With sincere respect,
Rob Huntington
President
 
Published on
Feb 13, 2023