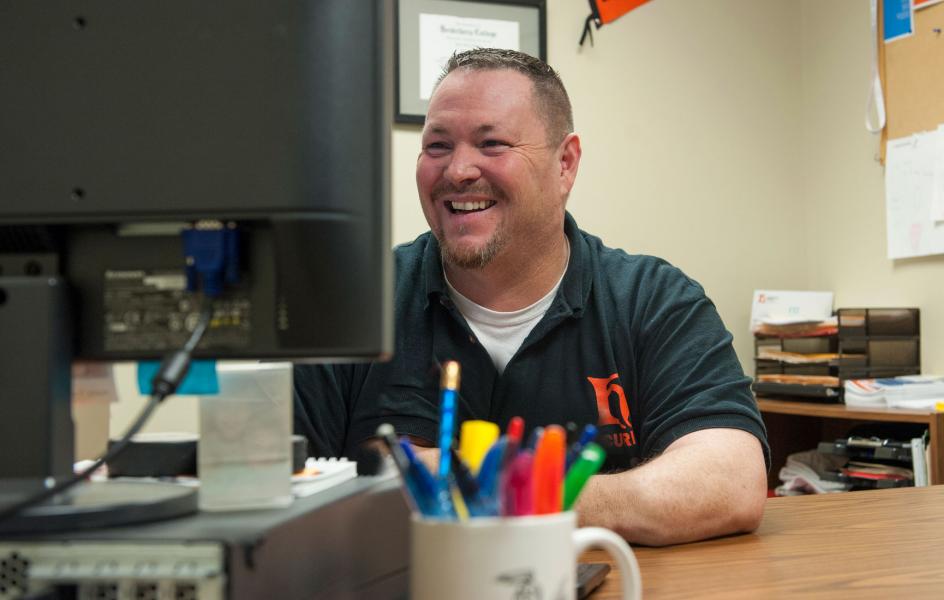 Jeff Rhoades
Director of Safety and Security
I've been into tattoos since I was 18. I have eight tattoos and I'm going soon to see about a ninth. I wanted to get one about my kids and I couldn't figure out what. For years, I've seen people do little footprints or portraits but I just wanted something simple. One night I was watching my daughter do her homework and she's sitting there writing. The light bulb in my head just went off. I'm going to have them write their names for me and then get the tattoo done in their handwriting. The two youngest printed their names right then and there. The oldest printed his for me when he came home from school. I still thought it looked a little plain so the artist put a brush stroke of each of their favorite colors. Brandon's is red, Kaiden's is green and Koriana's is purple. How cool is that? I like it because even when they get old, you can tell by the handwriting when I got it. It's symbolic to me. Forever, I'm going to have my kids' names on me but in their handwriting.
Why Heidelberg?
I worked for the Seneca County Common Pleas Court Juvenile Division for 17 years. Then I worked at a private facility for a year. I saw the job opening at Heidelberg and thought, 'How cool would it be to go back to work at the place where I went to school?' I knew the second I saw it that I was going to apply. My dad even called me and asked if I saw the opening. ... It all means more to me than just a job because I went to school here. It's a pride thing. Kids come into my office and see my pictures and baseball jersey from when I went here. I take a lot of pride in that.

Jeff graduated from Heidelberg in 1995. He currently works as the director of safety and security here on campus. He has three children, Brandon (19), Kaiden (12), and Koriana (9).