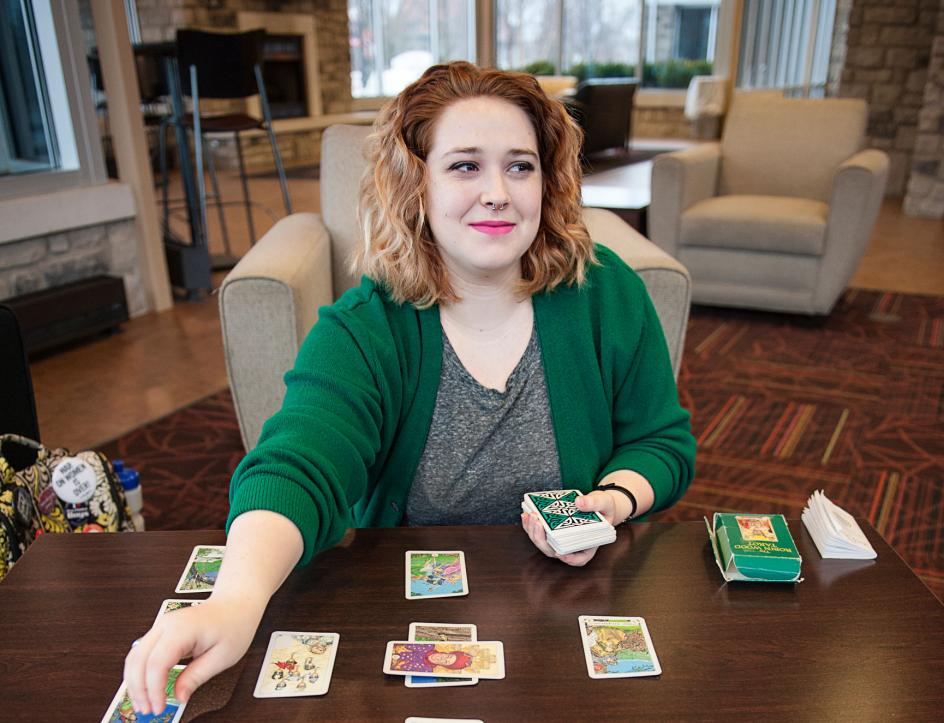 Madison Swyers
Music & Theatre, Class of 2019
I read tarot cards. They can predict your future kind of like a horoscope. It's very non-specific. I like it because every card has a different meaning to someone. You can get a lot deeper meaning than what you think going into the reading.

 

My friend and I were talking about the future one day and her mom brought up tarot. I had always wanted to get my cards read and get into it because it seemed super cool. She said she could do a reading for me. We went back to their house and she read my cards for me. It was so neat. I really liked it. She asked if I wanted the deck of cards and gave me all these books on it too. It was so special to me.

 

Every time I meet someone I just like announce, "Hey I read tarot, I can read your cards." Everyone I've met is always super interested in it.
Madison is from Wooster, Ohio and originally enrolled at Columbia College Chicago. She transferred to Heidelberg to double major in Music and Theatre. She has a part in The Laramie Project (February 2017), is an understudy in Putnam County Spelling Bee (April 2017), and serves as vice president of URGE.
Why Heidelberg?
I transferred from a big art school in Chicago. The teachers didn't really care about you in incoming classes of over a thousand students. It was really hard to be able to even talk to the teachers. I visited Heidelberg and it seemed really nice. I really liked the theatre teachers here so I was like, "I have to go here."