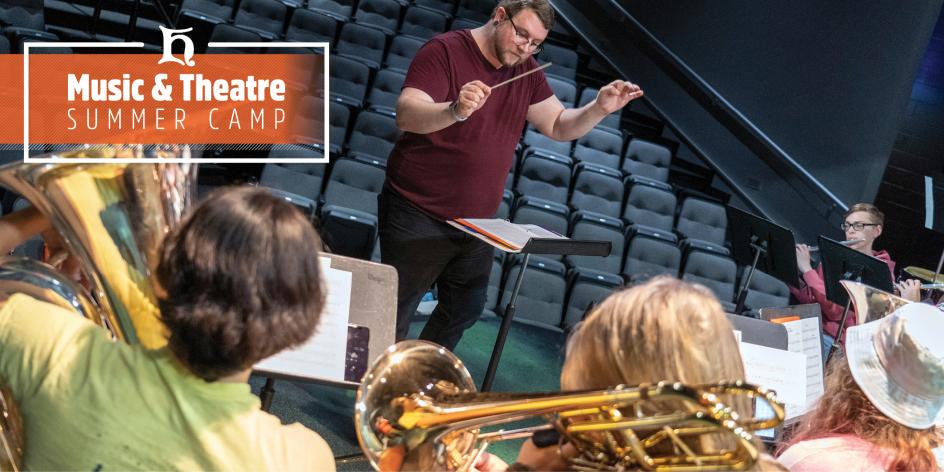 ---
About SMT Summer Camp
Camp runs from Sunday, June 11, 2023 at 2:00pm until Saturday, June 17, 2023 at 5:00pm.
At the Heidelberg University Summer Music and Theatre Camp, students can have it all. You can perform! You can create! You can design! You can LEAD on and off the stage. Our faculty have experience preparing young artists to take on the world. This summer, we're excited to offer you the opportunity to sing in the choir, play in the band, and develop your skills in the theatre. Learn how to prepare for a career in the Arts!
Campers may choose up to two ensemble tracks (Band, Choir, or Theatre) and spend their week in those activities.
Theatre - Spend the week on stage or behind the scenes, learning all that goes into producing a full musical!
Band - Bring your band friends and make new ones while playing your instrument!
Choir - Explore the world of choral music and all that the voice can do!
In addition to the track activities, we offer classes and small group experiences in many areas of theatre and music. Your schedule is yours to customize as you like from the following:
Brass | Woodwinds | Percussion | Voice | Piano Conducting | Songwriting and Composition | Marching Band Techniques | Music Theory | Dance | Fight Choreography | Lighting | Sound Design | Stagecraft | Acting | Makeup
We offer formal and informal performance opportunities throughout the week. You might choose to participate in a camp recital, sing in a group voice class, work a monologue in your acting class, or present the costume design you created in a theatre production class. Campers perform in the culminating performance (band, choir, and musical) on Friday evening.
This year's camp musical is Disney's Descendants!
Disney's Descendants is presented through special arrangement with Music Theatre International (MTI). All authorized performance materials are also supplied by MTI. www.MTIShows.com. Theatre track campers may choose to work on stage or on the production team (lighting, sound design, costuming, makeup).
Resident and Commuter Camp
Campers may choose to commute or stay overnight on-campus. Housing is provided in dorms. Double occupancy is standard. Single occupancy available by request. Please note that programming ends as late as 9pm each evening.
Participation Fees
Commuter $425: Includes lunch and dinner, Sunday Evening through Friday evening.
Resident Double Occupancy $550: Includes all meals Sunday evening through Friday evening and housing in a double room. 
Resident Single Occupancy $600: Includes all meals Sunday evening through Friday evening and housing in a single room.
Scholarships and Discounts
Discount available for schools who send more than two students to camp this summer. Please contact Dr. Elizabeth Tracy to pursue this opportunity.
All accepted students enrolling at Heidelberg in the fall may enjoy a $50 discount.
Scholarship assistance is available. Please complete the FORM HERE by May 1.
Scholarships and discounts may not be combined with other offers.
---
What does my registration fee include?
Admission for two to the camp performance on Friday, one camp t-shirt, all supplies required for your sessions, and meals. Commuters are provided lunch and dinner beginning with Sunday evening; residents are provided the same meals along with breakfast.
What is in each day's schedule?
Along with rehearsal time for each track and ensemble, we offer classes and private lessons tailored to the individual needs of our campers. Commuters are asked to arrive by 8:15am daily.
Daily Schedule
7:45am
Breakfast
8:15am
Welcome and Warm-up
8:30am
Band
Elective Classes/Lessons
9:30am
Choir
Elective Classes/Lessons
10:30am
Theatre
Elective Classes/Lessons
11:30am
Lunch
12:30pm
Band
Elective Classes/Lessons
1:30pm
Choir
Elective Classes/Lessons
2:30pm
Theatre
Elective Classes/Lessons
3:30pm
Band
Elective Classes/Lessons
4:30pm
Choir
Elective Classes/Lessons
5:30pm
Theatre
Elective Classes/Lessons
6:30pm
Dinner
7:30pm
Evening Rehearsals and Social Activities
9:00pm
End of Camp Day
Deposit Deadline May 24. Balance Due June 1.
Register and Make Your Deposit
Department
School of Music & Theatre
Event Series
Special Events