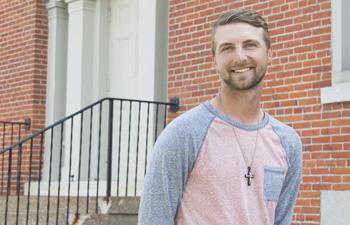 This summer will be the first in 17 years that Ben Sniezek won't be playing baseball. He'll still be part of the game he loves, just in a different – and hopefully, bigger – way.
After graduation, Ben is headed for an internship with Baseball Info Solutions, a company that subcontracts with Major League Baseball, providing valuable analytics that teams use in their scouting activities.
For the internship, he will be watching and scoring live games or reviewing those that others have scored. "Analytics is such a huge part of the game now," says Ben, who will be located in Copley, Pa., near Allentown. "Major league clubs come to them (Baseball Info Solutions) to hire for their organizations."
The internship runs through the MLB season, into October, at which time the company will look to hire full-time employees from within Ben's internship class of 26. He's hoping to land one of those positions. That just might be the entré into a professional MLB career that he dreams of.
"With my understanding of how the game works, playing for so long, all those early-morning winter practices, my work ethic and my ability to push through obstacles … this is my chance to get a start on my career," he says.
Ultimately, Ben wants to work for a major league organization – maybe even as a general manager. After pitching for the Student Princes for four years, he may just have an advantage. Pitchers, Ben says, understand the nuances of game perhaps better than other position players. Those nuances will be super valuable as he reviews and evaluates games during his internship.
Beyond the field, Ben feels his sport management major with a business concentration have prepared him very well for this next step. Business classes, such as facilities management, "solidified my love for the game and helped me understand it even better."
But adding a communication minor his junior year was the single most impactful decision of his undergrad years.
Ben credits communication Professor Linda Detwiler for pushing him to learn to communicate effectively and persuasively. "I've been able to grow a good relationship with her," he says.
He also found support in roommate athletic training major Anthony Bartko, who's also graduating. "We've been supportive of each other and bonded over time," Ben says.
This lifelong Detroit Tigers fan, who lives in Dearborn Heights, Mich., just may have to check out some live action at a Philadelphia Phillies game or two this summer – just for the love of the game.
Published on
Jul 10, 2016