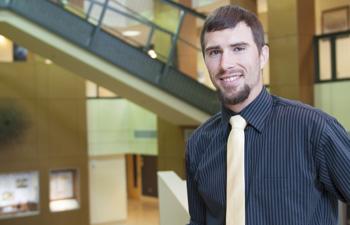 Kyle Fluharty came to Heidelberg for two reasons: baseball and science. During his four years at Heidelberg he excelled at both, and discovered that his passions and pursuits worked together to help define his future.
Baseball was initially how I found Heidelberg," Kyle said. "Then I discovered the cadaver lab. Ever since I got here I looked forward to working in there.
Kyle came to Heidelberg as a biology major with the intent to head to medical school. When he began to lose interest in becoming a medical doctor, he decided to look into optometry. Playing baseball was a part of his decision.
As a pitcher, I've always been interested in vision and how the eye tracks the ball," Kyle said. "It made sense to look into it further.
After job-shadowing two optometrists, he knew he had found the path he wanted. Kyle credits Heidelberg professors for helping him through the pre-med process and keeping him on track.
There's a lot of little things you might not think about," he said. "It was nice to know there was always a professor I could talk to.
Heidelberg's pre-med track sets up each student to complete the requirements for the schools they're interested in. Kyle took the Optometry Admission Test (OAT) the summer between his junior and senior year, so he could then start applying in the fall. There are only 22 optometry schools in the country, and Kyle was accepted into one of the newest programs at the University of Pikeville in Kentucky. Kyle credits his student-athlete experience for his success.
I loved the challenge of playing baseball," he said. "I think it's what got me into optometry school. They saw I had the ability to balance different workloads and use time management.
Being a student-athlete is a lot of work, but Kyle would never trade the experience. Every spring, Kyle balanced classes and homework with practice and games. While a daunting task for any athlete, Kyle knew he had support from across campus.
"I was able to have two different families at Heidelberg - my baseball family and my science family," he said.
Kyle was a member of two regional qualifying teams, and in his final season had a 3.68 ERA and 63 strikeouts.
I don't think there is any better feeling than getting the win for your team," Kyle said. "No matter how easy or hard it was, knowing you were a big part of that is a great feeling.
Looking back, Kyle sees how Heidelberg was able to help him on his path to achieving his career goals.
Heidelberg put me in the perfect position to reach my goals," Kyle said. "There are endless opportunities here that helped round me out in the way professional schools were looking for.
Published on
Jul 10, 2016