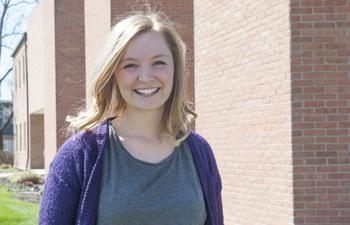 Melissa Tippin captivated her voice professor, Dr. Carol Dusdieker, from day one. For the past four years, the bond between professor and student has deepened.
She captured me that first week of her freshman year when she auditioned for The Drowsy Chaperone," Carol says. "Her energy is absolutely contagious.
For Melissa, who is from Bryan, Ohio, finding role models like Carol at Heidelberg has been really valuable. "It can be hard being a woman growing up in a small town. When you meet a professor who brings out your passion, you realize you can do more, you want to do more," she says.
She has an expressed gratitude for other strong women she's met and interacted with on campus – women such as Sara Gilbert in the Admissions Office and Nainsí Houston, whom she met through the Women's Leadership Initiative. "These are all women who are role models for me. They really inspire me."
Melissa also draws inspiration from being on stage at Heidelberg. She loved performing the lead role in Shrek, the Musical, "even if the green makeup was a little tough to remove." She also performs with the Concert Choir, the Singing Collegians and Make a Scene improv group.
Even though music has been – and always will be – a big part of Melissa's life, it's only part of her Heidelberg story.
Adding a second major in business administration has opened up career opportunities; she has pursued her passion for performance while gaining practical skills in business that have set her up for career success.
"That's one of the wonderful things. I have so many possibilities and options," she says. Her voice professor agrees. "With her diverse education at Heidelberg, I have no doubt she's going to go out and seize the world," Carol says.
First, though, Melissa seized the many opportunities to be actively involved in student organizations such as Greek life – she's president of Zeta Theta Psi – and the Women's Leadership Initiative. Her high level of engagement and leadership development will serve her well in her career.
You just get a lot of great leadership experiences, bonding with people in groups,
she says.
These bonding experiences – with students, faculty and staff – are special Heidelberg qualities Melissa likes to share with prospective students and their families as an Admissions ambassador. "I love Heidelberg and I want to see it grow and thrive, so I really enjoy recruiting new students," she says.
These days, Melissa finds herself looking back to her college search days. "When I was looking at schools, the thing that stood out about Heidelberg was how welcoming the faculty and staff were. They wanted to make sure I made the right choice for me," she recalls.
As graduation approaches, there is no doubt in her mind that she did.
Published on
Jul 10, 2016