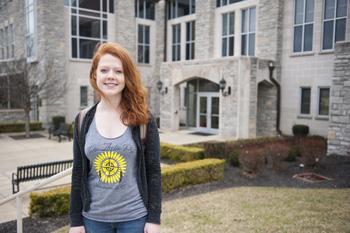 When 'Berg junior Ali Bauer arrives at San Jose State University in June for a prestigious six-week summer school in nuclear and radiochemistry, it won't be her first walk around the block at a major chemistry lab.
The Division of Nuclear Chemistry and Technology of the American Chemical Society sponsors the summer school, which is funded by the U.S. Department of Education.
Ali is one of 12 students selected nationwide who will study at the western site at SJSU, a co-sponsor along with ACS, the University of Missouri Research Reactor and the U.S. Department of Energy. All of her travel, housing, tuition, books and supplies will be covered, and she will receive a $4,000 stipend.
Ali found out about the ACS opportunity through her 'Berg chemistry professors. "They keep us students interested in research science informed about research experience for undergraduates throughout the year," she says.
The application process was just about as challenging as Ali anticipates the program will be. She provided her resume, transcript, many short personal essays about her interest in nuclear chemistry and a statement of career goals and life purpose. "Additionally, I needed a few letters of recommendation from faculty, which they are always more than willing to help with," she says.
While Ali concedes she's experiencing just a bit of trepidation, she feels very well prepared for the rigorous coursework and the labs, based on her Heidelberg experience. "The courses and labs I have taken here have made me comfortable with many common lab techniques, so I am feeling optimistic about my capability to do well in the program," she says.
Aiding in her preparation is an internship she's currently completing. This semester, she's working in an organic chemistry lab under Dr. Wei Li at the University of Toledo.
The summer course consists of lectures on the fundamentals of nuclear science, radiochemistry and their applications in related fields, according to its website. Students will work in the lab on state-of-the art instrumentation and technology used routinely in basic and applied nuclear science. They'll also have an opportunity to engage with prominent research scientists from universities and the DOE national labs who are working in the fields of nuclear and radiochemistry, nuclear medicine, nuclear forensics and related fields.
'We're very proud of Ali being selected for this prestigious program," said Dr. Bryan Smith, one of her chemistry professors who supported her application with a letter of recommendation.
Heading into her senior year next fall and graduate school in chemistry, Ali is expecting the course also will provide her with professional connections, advice and "a sneak peak into what the life of a professional chemist is like in general … and general knowledge about nuclear chemistry."
This is a great way to get exposure to something I love. Perhaps even, by the end, I may have a better idea about which particular field of study I will want to pursue in graduate school. I love chemistry, so that's what I hope to spend my life doing.
Published on
Mar 10, 2016