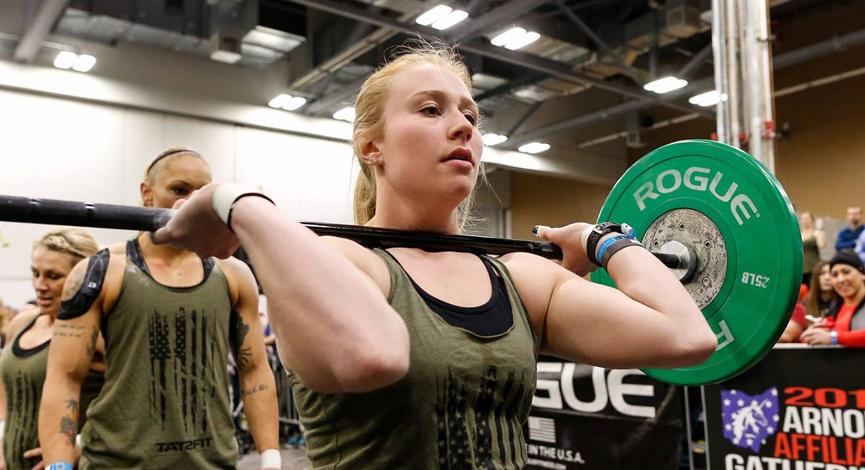 Locally, and now nationally, Jordan Hux '16 has made her mark on the world of CrossFit.
Competing against nearly 40 other teams, Jordan and her team, The Replacements, took home first place in the CrossFit Endeavor 6 Person Co-ed Competition at the Arnold Sports Festival in Columbus.
There was a lot of pressure going into it," Jordan said. "It was my first year competing there but some of my teammates had won the competition before. Hearing our name when we won made all the hard work worth it.
The 6-person event is a unique competition style in which each team is comprised of three females and three males. Teams compete in  four to six events back-to-back without breaks. Each event involves a different number of athletes, different skills and lots of strategy.
"The events rotate between genders then you compete at the end together," she explained. "You try to do your event the best you can to help your team because your totals are tallied together."
Jordan's passion for CrossFit started here at Heidelberg. She helped to start the CrossFit Club during her time as an undergrad.
"I came to Heidelberg originally to play softball and we were looking for a way to condition during the fall," she said. "We found out that there was a CrossFit in Tiffin. I tried it and just fell in love with it."
Three days a week, members of the club go to CrossFit Tiffin and work out together. There are several different options to allow members to visit more frequently, if they wish. The routines range from mobility, gymnastic movements, weight lifting, conditioning and high-intensity workouts.
Political science professor Jenny Reichert is the CrossFit Club advisor at Heidelberg. "CrossFit is great for students looking to stay in shape," she said. "It helps them build strength and character inside and outside the gym." Students interested in joining the club can contact Jenny or talk to one of the current club leaders senior Ryan Brewer or junior Jared Yoe.
As for Jordan, she is currently enrolled as a graduate student at Chamberlain College of Nursing in Columbus. Through her studies, she still finds time for CrossFit. "I still go to the gym every day," she said. "It's fun, challenging and helps me stay focused. I just love it and it keeps me healthy."
Picture courtesy Validus Events Series.
Published on
Mar 22, 2017