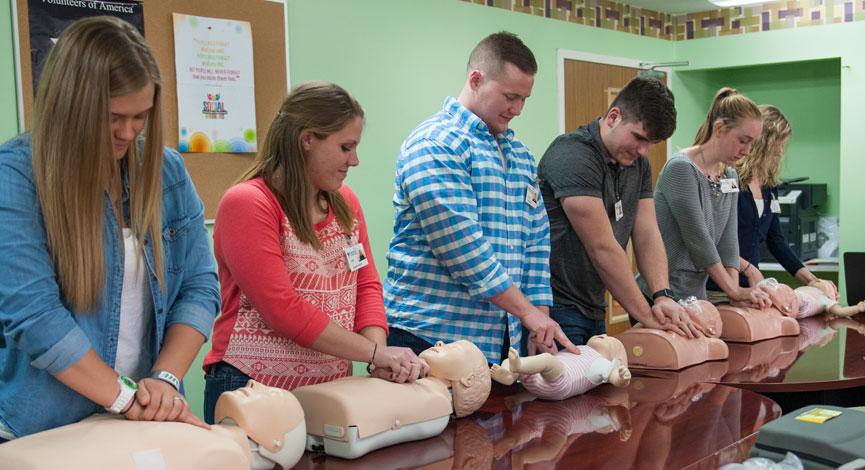 Junior Tyler Hunter has his sights set on working in geriatrics as a career, having experienced the challenges of dementia and Alzheimer's disease in his family. A new opportunity this semester has provided a strong foundation toward his goal.
While most students were wrapping up their holiday break in January, Tyler and six other 'Berg students were enrolled in an intensive two-week course to become State Tested Nursing Assistants (STNA). The program, offered for the first time in January, is a partnership between Heidelberg and Autumnwood Care Center, an assisted living facility in Tiffin. It was coordinated by biology professor Dr. Pam Faber and registered nurse Crystal Mathias, staff development and infection control director at Autumnwood.
Following the on-site course, which included 59 hours of classroom instruction and 16 hours clinical hours, the students sat for their state-level written and practical licensing exam. Everyone passed on the first try. They are now fully qualified to assist residents/patients with activities of daily living.
The 100 percent pass rate surprised neither Pam nor Crystal, who was pleased with the students' approach to the class.
"They all did a fantastic job. I was really impressed with their eagerness and assertiveness with learning," Crystal said. "I must say, what a great group of young, caring, motivated and respectful adults they are!"
Because most of the students are majoring in health-related fields, the course material wasn't entirely new to them. Where they'll have an advantage, though, is their exposure to a new and different schema of health care, Pam said.
The students really appreciated the opportunity.
This is a stepping stone I need for a nursing career. I enjoyed it a lot, actually," said Tyler, who is majoring in health science and minoring in wellness. "I love helping the older population. It's a good feeling, knowing you are making a difference.
The biggest bonus for senior Kenzie Lundqvist was that the course solidified her career goal to be an orthopedic surgeon. "When I'm looking into medical schools, it will help that I have this experience," she said. "When I'm asked how I know that this is what I want to do, I can say, 'because I've done it.'"
"It was a great opportunity to get used to medical terminology, get used to talking to patients and just being in that mindset."
The students benefited from the hands-on practice for the skills they will need and from sharing the experience with their peers. For Kenzie, there were one meaningful eye-opener. "People think STNAs do the 'grunt work,' and a lot of it is, but working with the residents … never in my life have I felt like I helped someone as I did when I was there."
"Overall, it was a great experience. I feel confident that this is something I could do and would enjoy doing," said Kenzie, who plans to work as an STNA during her gap year after graduation.
Now that they are STNAs, the 'Berg students are eligible to be employed part time by Autumnwood. Six have followed up and are currently completing orientation. They'll be assigned shifts as their schedules permit.
The partnership is a win for both Heidelberg and Autumnwood; that's the beauty of it. 'Berg students receive valuable training and certification and Autumnwood is able to address its staffing voids.
"It was everything I was hoping for and everything I thought it would be," Tyler said. "I'm sure others will see the importance and take advantage of it in years to come."
Future classes are in the works and will be organized as needs are identified, Pam added.