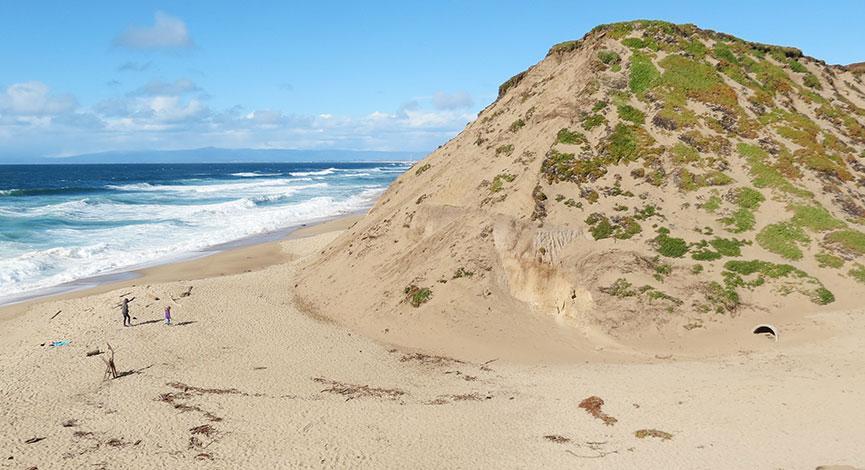 The students of the Regional Field Geology class and their professor, Dr. Amy Berger, spent their spring break learning about the geology (and some biology, history, and cultural heritage) of the San Francisco Bay Area. Here are some of their highlights from the trip.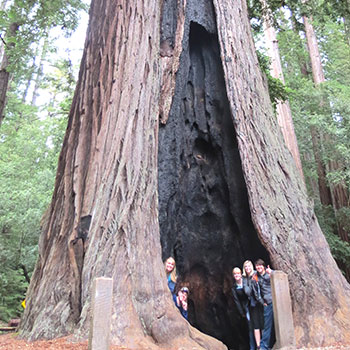 Bryce Chong
Junior Environmental Science and Biology major
Natural Bridges State Beach
"This park is located right along the shore and is known for its large "bridge" of rock. While there, we saw beautiful sandstones carved by crashing waves, large and small birds, and—my favorite—tidal pools! In these pools were mussels, snails, anemones (with lime green tentacles). I was so engrossed in the tidal pools that I didn't notice I had gotten too close to the rocky shore and ended up with a face full of sea water from a crashing wave."
Fort Ord Dunes State Park
"What was once a training ground for the military (from as long ago as 1917!) is now a park where tourists can come to see large dunes covered in plant life, bounded by the roaring ocean. It was great to walk along in a fascinating geological environment that is also a historical landmark. As we were leaving, we stopped to look at the abandoned military housing complex. To see these rows of yellow buildings, slowly being taken over by vegetation, was very cool to say the least!"
Vickie McDonald
Senior Environmental Science and Music major
Point Lobos State Park and the Marin Headlands
"My personal favorite part of the day was visiting Point Lobos where we got to see several different marine mammals and birds—harbor seals, Brandt's cormorants, and otters! We made a surprise stop for lunch at a Japanese botanical garden. We ended the day with a scenic walk along the Marin Headlands that overlook the San Francisco Bay."
Logan Mahl
Senior Environmental Science major
Big Basin National Park
"It was a four mile hike to Sempervirens Falls and back. We encountered several types of wildlife including black-tailed deer, ravens, banana slugs, and squirrels. The biggest feature of the day were the giant redwood trees: Sequoia sempervirens. We saw many different sizes and shapes of redwoods. The park geology was mostly covered by the dense forest but there were rocks and boulders and amazing topography we saw on our hike. The waterfall was the best geologic feature of the day. The water drops about 20 feet from a rock cliff jutting out over a small pond, before it continues down Sempervirens Creek. We were able to see bits of granite from the very deepest rocks in the area. The Ben Lomond Fault runs through this park, although we didn't see any evidence of it."
Published on
Mar 17, 2017