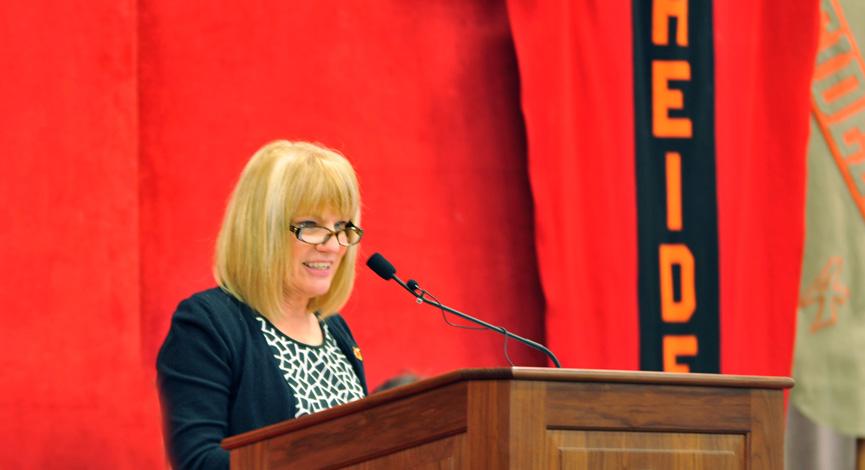 After deciding the Alumni Council could use a jolt of energy and a new purpose, President Kim Newman and the Office of Alumni Engagement decided to take a year off and do their due diligence about how best to revitalize the organization.
"The Alumni Council was not really moving forward and it was going to cease to exist if we didn't change it," said current President Kim Newman, '90, who spearheaded the transformation, along with Ashley Helmstetter and Bob Youngblood.
From June 2015 to June 2016, Alumni Council went off-line to conduct a self-study, which included research about other institutions' councils and how they functioned. The turning point, Kim said, was in March 2016, when she and Ashley attended a conference to learn best practices for strengthening alumni council organizations.
They started with some small changes:
"Emeritus" membership was eliminated.
A cap for membership was set at 25.
Student representation was added.
A limit of two three-year terms was adopted.
The committee structure changed.
"We wanted to be a proactive organization, rather than reactive," said Kim. In essence, they were starting to rebuild the council from the ground up. Some existing members decided to stay on board and new members were recruited.
"When we looked at our membership, we looked at decade of graduation, major, Greek affiliation. It was important that we had a good cross-section to represent all Heidelberg grads," she said.
And as a measure to help ensure the council's success, all members now must sign a "letter of commitment" that they will regularly attend meetings, volunteer/participate in at least one on-campus and one off-campus alumni event annually, aid in the planning and promotion of HU events and make an annual contribution to the Heidelberg at a minimum of the Fellows giving level.
Kim said the group decided to put their support behind the HYPE Career Ready Program, and members agreed to step up to present more sessions in 2017-18. Leading by example, Kim assisted with a session this year, titled "Networking Beyond the Business Card and First Impressions."
In addition to assisting HYPE, Alumni Council also will continue sponsoring the annual Beyond the Berg event for graduating seniors and assist on campus as needs arise. Recently, council members came forward to lead focus groups as part of the development of the Academic Strategic Initiatives for Improvement Plan. "They really enjoyed that and it was something that had an impact on campus."
So what's Kim's assessment of how the changes have been received? So far, so good. "Everything has been fantastic. Council members are participating in events, making suggestions. It's going very, very well."
This June, Kim will turn over council leadership to Frann Zverina, '74. She will leave with high hopes that the council will be a "doer" in assisting Heidelberg in moving forward.
Published on
Mar 14, 2017