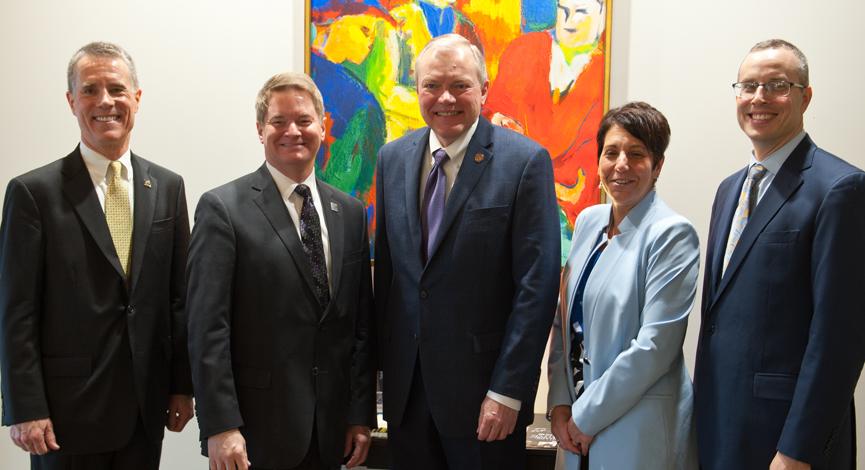 Pictured above (L-R): Rob Huntington, Heidelberg University president, Jermone Webster, Terra Community College president, Bill Reineke, state representative, Lillian Schumacher, Tiffin University president and David Zak, SIEDC president & CEO
State Representative Bill Reineke (R-Tiffin) announced Thursday that the Ohio Partnership for Water, Industrial & Cyber Security (OPWICS) $1,000,000 proposal was approved by the Ohio State Capital Budget Office. OPWICS is designed to serve as a state hub for research and developing a trained workforce to meet the growing needs of state and national businesses and governments to secure natural and informational resources against human and natural attack.
Beginning in 2018, the money will be allocated to Terra State Community College (Cyber Security Education), Tiffin University (Criminal Justice and Cyber Defense) and Heidelberg University (National Center for Water Quality Research). The close partnership among our three institutions will create academic programming and robust field experiences that will push Tiffin, Fremont and Northwest Ohio into the forefront of cyber and water security and the protection of our natural resources at the national and global level.
Housed on Heidelberg's campus, the National Center for Water Quality Research (NCWQR) plans to use the allocated funds ($700,000) for an applicator and tractor to provide farmers in the region the opportunity to try out the equipment and test the effectiveness of subsurface application. The equipment will be used and tested by farmers in the Seneca Conservation District.
"We are all fortunate to receive state support. The funding will catapult the OPWICS concept on the fast track toward implementation to produce valuable graduates who will safeguard our natural resources and communities," said Robert H. Huntington, president of Heidelberg University. "This complements the NCWQR mission to promote the sustainable use of water and soil resources while striving to protect ecosystem with practical applications and educational opportunities for our students. We are thrilled to partner with Terra State Community College and Tiffin University on this major new initiative."
The ultimate goal is that the NCWQR will be the intellectual think-tank in developing new ideas and education programs that bridge the science of water with other relevant fields such as homeland security (protecting water availability and quality), engineering, economics and sociology. The information provided by the NCWQR has assisted the state in the development of Domestic Action Plans required under the Great Lakes Water Quality Agreement. By being properly informed, the state is able to identify where resources are needed thus more efficiently using taxpayer funding to fix issues in Lake Erie, Grand Lake St. Marys and the Ohio River.