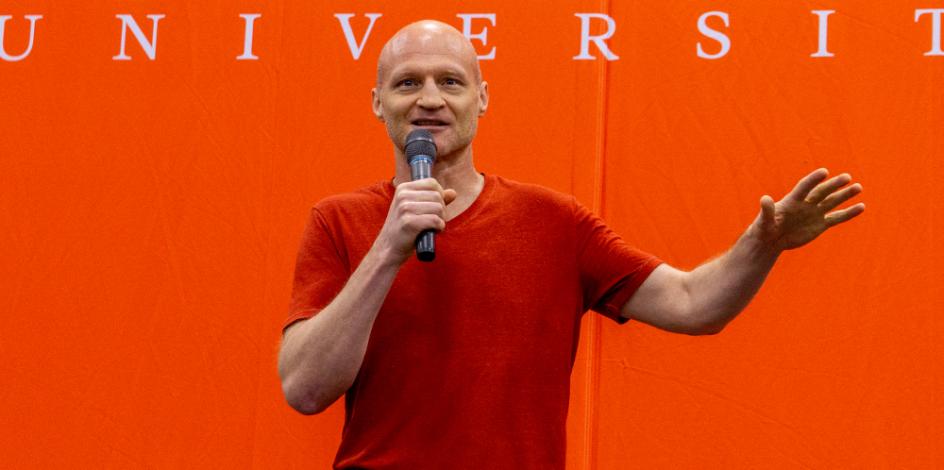 Unlucky does not mean improbable.
If you examine the history of The Onion and the life of its co-creator, Scott Dikkers, those words ring true. Dikkers came to Heidelberg on Thursday to kick off the fourth year of the HYPE Career Ready® program as the keynote speaker.
In 1988, Dikkers launched The Onion, the original "fake news" platform that has grown into one of today's most recognized satirical comedy brands. The back story: The Onion "started out as a joke but has become the most trusted news source in America," he joked.
A troubled kid who dealt with dire circumstances at home, Dikkers discovered MAD Magazine as a youngster, and something clicked. From that magazine, he learned how to write and draw funny. He taught himself to become a cartoonist, using old-school means to eventually get a regular gig with a small newspaper in Madison, Wisconsin. "Jim's Journal" was published on a trial basis for no pay. "The crazy thing is people liked it. It caught on," Dikkers said.
From those early beginnings, he connected with a string of people, including two college guys who wanted to start a campus humor magazine. Although the two guys jumped ship after two issues, The Onion was born from that effort when Dikkers bought it from them. Distributed free on the street, The Onion's audience base began to grow. 
"Other people saw it, liked it and volunteered to help," he said. "Those people became the paid writing staff. They became some of the best satire writers in the world. … I did not search high and low for them. I just searched low."
Dikkers described his writers as a band of misfits -- "bitter, hateful people with no prospects in life – perfect for this job." He had only three requirements: they had to attend a weekly writers meeting, pitch ideas and write one story a week.
"The secret is to empower people to grow, to improve without breathing down their necks. Then, you step back and they've become better than you. That's how you find the best people," he said. 
Through the early years, Dikkers, who was no stranger to sacrifice and hard work, discovered something critical to personal and professional success. "You have to find your mission. Find the thing that compels you and live it. And if you're ever a boss someday, free your people. They will succeed beyond your wildest imagination."
Throughout his keynote, Dikkers told the stories of a number of employees and co-workers whose talents and personalities made The Onion a success … Rich, the bus driver by day who worked at The Onion by night … Carol, whom he discovered through her street art … Ken, the attorney and fan who helped him wiggle out of some potentially sticky legal situations when he pushed the envelope … Kelly, the drunkard who constantly wore hideous "Half-Baked" T-shirts … Ben, the well-dressed and sober business man who secretly wanted to write comedy. 
About eight years in, Dikkers discovered the power of this new thing called the internet, and The Onion 2.0 entered the online world. Suddenly, the weekly newspaper gained an entirely new and growing audience. Its popularity and financial success skyrocketed, yet Dikkers was homeless, having poured most of The Onion's profits into staff salaries and benefits.
"It was a weird dichotomy," he recalled, noting that he was at the time sleeping on a mattress in the basement of the family of his "little" from the Big Brothers organization. You might think that would have been a low point, but the opposite was true. "Actually, it was the happiest, because I was living my dream," he said.
Fast forward a few more years, and The Onion was ready to expand to web video. "We exposed ourselves to a whole new demographic of non-readers who were a little gullible," he said. "Before, they were angry because they were being made fun of. Now, they're angry because they thought The Onion was real news."
Today, the brand has continued to expand and evolve. Some of its original writers have gone on to great success in Hollywood on high-profile comedy teams – which once again underscores Dikkers' message: "Live your mission. Find the thing you're compelled to do. And if you're ever a boss, free your people."
---
Published on
Sep 19, 2019