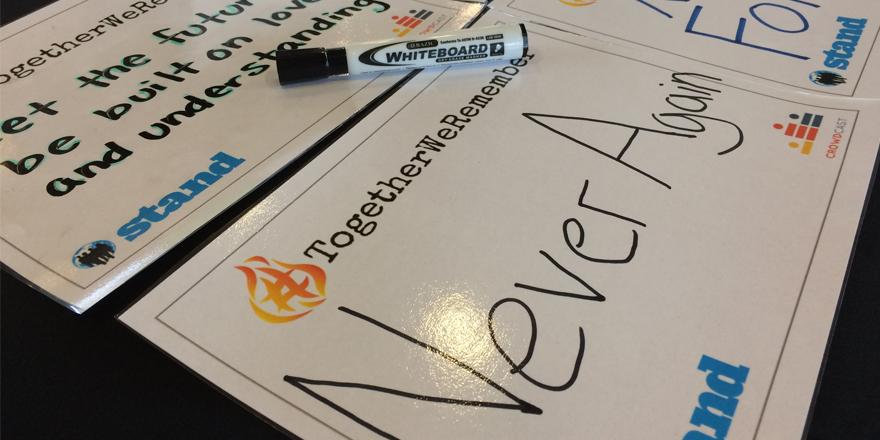 For five years now, a contingent from Heidelberg has participated in the #TogetherWeRemember Reading of Names event as an outreach of the university's Lichtman-Behm Genocide Lecture Series. In the midst of the coronavirus pandemic, hosting the event presented some logistical challenges, but that did not prevent Heidelberg from pausing and remembering the victims of genocide on Monday.
The annual Reading of Names of victims of genocide takes place annually across the globe in April, which is recognized as Genocide Awareness Month. Heidelberg first participated live in the Reading of Names in 2016, according to Julie Arnold, director of International Affairs and Studies and a member of the Lichtman-Behm planning committee.
This year, however, the event was a virtual experience as a small group of about eight students and several staff and faculty members stepped up to read names. The Heidelberg group was joined by great friend David Estrin, the founder of the #TogetherWeRemember initiative, who participated in our Reading of Names virtual event.
David has made it his life's work to keep alive the memory of Holocaust survivors, including his grandfather, Jimmy Lichtman. Last fall, David was on Heidelberg's campus as the keynote speaker for the annual series. He gave two inspirational talks to the campus community as well as local and area junior high and high school students.
In years past, the Reading of Names took place over a 24-hour period, but that was difficult to sustain, Julie said. This year, the 11 a.m. Tuesday time slot was chosen because there typically are no classes at that time. For 90 minutes, 'Berg students, staff and faculty stepped to the virtual podium and read the names of genocide victims so that together, we never forget.
"We were able to reach out to students to participate," Julie said, adding that members of the World Student Union and Berg Latinx Unidos stepped up to read names.
There were a few minor behind-the-scenes technology glitches – "It was a work in progress to see which format worked the best," Julie said – but in the end, the group utilized Zoom, worked out the tech issues and pulled it off.
About the Lichtman-Behm Genocide Lecture Series
Heidelberg University's annual Lichtman-Behm Genocide Lecture Series is inspired by the life and experiences of Mr. Don Behm, 'Berg Class of '51, a U.S. Army veteran, and the late Mr. Jimmy Lichtman, a Holocaust survivor. Both men witnessed the horrors of genocide firsthand during World War II. The series began in 2010 when Don and Jimmy told their poignant stories of liberator and survivor. An overwhelming response prompted the University to bring them back in 2011.
In the succeeding years, Heidelberg concentrates alternately on the Holocaust and another example of genocide. Our ultimate goal is to raise awareness about the human toll of genocide. The series reminds us that we are all connected to the past and encourages us to work toward a world where these atrocities will not repeat themselves
Published on
Apr 16, 2020