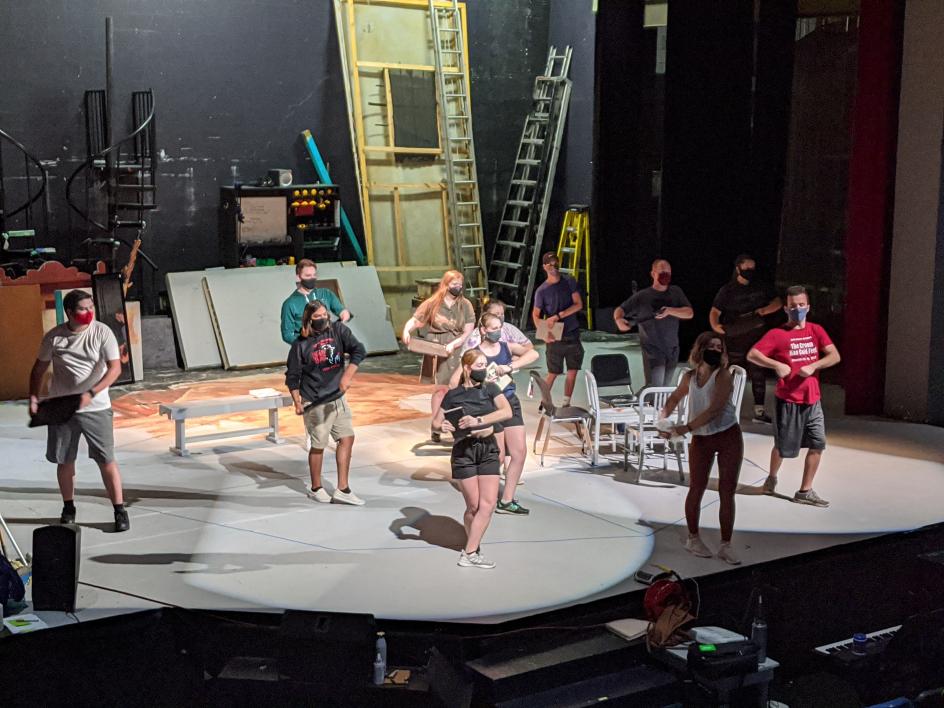 Nothing is conventional during the pandemic, but the shows must go on for Heidelberg University Theatre.
COVID-19 has presented extraordinary challenges for Heidelberg's growing theatre program, primarily, "How do we produce theatre while also keeping everyone safe," noted Theatre Director Stephen Svoboda. Despite the challenges, 'Berg Theatre is forging ahead with an exciting 2020-21 season, albeit with a number of safety precautions in place. This year's season will feature five productions and "9 to 5," a bonus holdover from last spring.
"We have planned a fun, entertaining and thought-provoking season that we would still like to share with our audiences. As conditions surrounding the pandemic change, we hope to allow a socially distanced audience this season," Svoboda said. "As of now, though, the kids are so excited to be back in rehearsals, even if they are wearing masks," Svoboda said.
This year's theme is "I Won't Grow Up." "We will be exploring the humor and pain associated with becoming an adult," he said. "Everyone loves the magic of childhood but we also know the struggles of growing up."
Rehearsals have begun for the first production of the season, Disney's "Freaky Friday" on Oct. 8-11. "Freaky Friday," a musical comedy, follows teenager Ellie Blake and her mother, Katherine, on the freakiest day of their whole lives when mother and daughter swap bodies for a day and learn what it's like to walk in each other's shoes. Because of pandemic safety precautions, the show will be filmed and excerpts, interviews and other special "extras" will be made available to subscribers and theatre-goers. Season subscribers will also receive exclusive behind-the-scenes content and access to other features.
Following "Freaky Friday" will be "Elf the Musical" on Nov. 18-22. Heidelberg Theatre has received the rights to stream this production, and tickets will be available to stream throughout the month of December through Christmas Eve. "Elf the Musical" tells the story of Buddy, a young orphan who mistakenly crawls into Santa's bag of gifts and is transported to the North Pole. With Santa's permission, Buddy embarks on a journey to New York City to find his birth father, discover his true identity, win over his new family and help New York remember the true meaning of Christmas.
Kicking off an ambitious spring semester will be the Theatre's annual Repertory Series, running from Feb. 11-21. Two shows – "Peter and the Starcatcher" and "Puffs, Or: Seven Increasingly Eventful Years at a Certain School of Magic and Magic" – will be performed on alternating days.
"Peter and the Starcatcher" provides a humorous and fantastical backstory for the beloved character of Peter Pan and his arch-nemesis Captain Hook. The story introduces audiences to the poor orphaned child on the high seas. Boy's world is turned upside down when he meets a Star-catcher-in-training named Molly, who is on a mission to save the world from the greedy pirate Black Stache. The show reveals more about these characters than you ever thought you knew.
"Puffs, Or: Seven Increasingly Eventful Years at a Certain School of Magic and Magic" tells the story of Wayne Hopkins, a regular boy who finds out he's a wizard and goes to school in England where he makes two best friends and has adventures. The storyline may sound a little familiar, and it should; this is a parody play based on a certain boy wizard who goes to a certain school of wizardy and is merely a play for anyone who has never been destined to save the world.
Closing out the 2020-21 season will be "Heathers: The Musical" on April 22-25. This is a hilarious, heartfelt and homicidal new show based on the cult classic 1980s comedy film of the same name. You'll meet Veronica Sawyer, a high school senior who longs to be cool like the clique of it-girls. The show features a moving love story, laugh-out-loud comedy and an unflinching look at the joys and anguish of high school.
Theatre students will stage Dolly Parton's musical comedy "9 to 5," the hilarious story of an unlikely trio of women who find friendship and revenge in their workplace in the 1970s, during Heidelberg's commencement weekend May 13-16. Originally scheduled to conclude the Spring 2020 season, students were unable to perform "9 to 5" when the COVID-19 pandemic forced the closing of Heidelberg in March.
This year, several guest artists will be working with Heidelberg Theatre students, including Theron Wineinger, a set designer from New York City, Daisy Long, a lighting designer also from NYC, Daria DeGaetano, who will choreograph "Elf the Musical," and Amanda Brutor, a TV and stage actress who will guest direct "Puffs, Or." Also returning will Kenzie James, a '20 Heidelberg grad who is pursuing her master of fine arts degree in San Francisco currently taking courses online. James will serve as the choreographer for "Freaky Friday."
Season subscriptions are now available. Subscribers receive exclusive content, behind-the-scenes access to rehearsals, design processes and portions of the fall performances. When it is safe, subscribers will be the first to be invited to attend in-person performances. General admission cost is $50 for the five shows this season. Discounts are available for members of the Heidelberg community. Visit gundlachtheatre.org for additional information.
 Although the pandemic is limiting indoor gatherings currently, it is hoped that by the spring, the theatre will be able to seat small audiences. If that is the case, season subscribers will be offered tickets first.
 Additional information about all of the productions as well as subscriber information can be found at gundlachtheatre.org. You can also call the theatre box office at (419) 448-2305 for assistance.
Programs
Acting
Musical Theatre
Theatre
Theatre Production