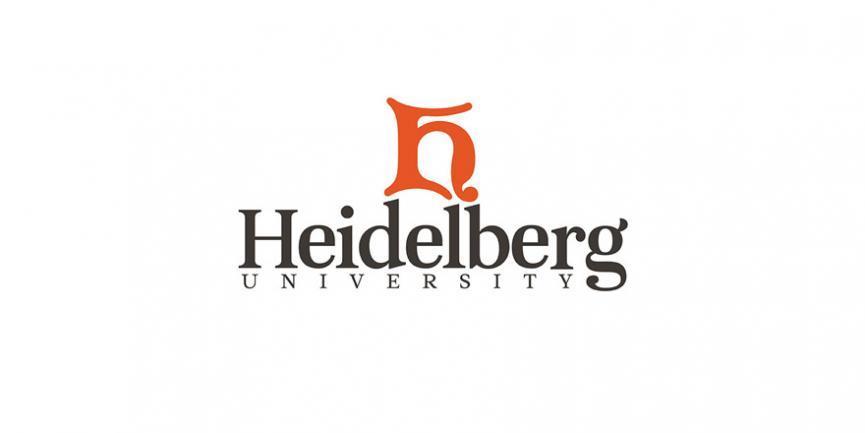 The Board of Trustees has announced that, in accordance with terms of President Robert H. Huntington's 2020-2025 employment agreement, his contract has been extended an additional year.
Board Chair Kathleen Tirbovich Geier, '78, made the announcement following the Board's fall meetings Oct. 26-30. President Huntington was given a rolling contract designed to automatically turn into another five-year contract at the end of the first year and every year thereafter. As a result, his new contract has been extended to June 2026.
Kathy said Rob's strong leadership, vision and decision making – particularly over the past months during the uncertainties and challenges of the global pandemic – have been invaluable in guiding Heidelberg.
"It takes the efforts of an entire team to work together toward our goal of moving Heidelberg forward. Rob Huntington has been a strong, steady leader in guiding us with flexibility and agility on this shared path of strengthening Heidelberg for the future," she said. "This year has presented a unique set of circumstances with the pandemic, and through those challenges, he has remained focused on the important work toward our institutional goals of education excellence, full engagement, total success, four-year graduation and preferred placement for all students."
Under President Huntington's leadership, Heidelberg has invested more than $30 million to complete 17 new construction and major renovation projects that have dramatically improved the student and guest experience on campus. In August, the university completed construction on a new townhouse residential complex for undergraduate students, as well as renovations of Frost Lecture Hall and the Founders Little Theatre. A major restoration / renovation of historic France Residence Hall is set for completion this year. Additionally, the University has raised nearly $68 million in its Academic Comprehensive Campaign for Excellence (ACCE), a multi-level, multi-year initiative that has transformed the academic offerings and educational experiences that provide distinctive opportunities and advantages for Heidelberg's students. Earlier this year, Heidelberg announced the new Educational Programming Strategy and Strategic Academic Programs Prioritization plan, which streamlines academic majors and minors. The plan represents a critical shift in educational program strategy to professional liberal arts, designed to strengthen Heidelberg's position in the academic marketplace and remain competitive well into the future.
President Huntington has overseen the development and implementation of a number of new programs. The newest, the Heidelberg Tuition Guarantee announced just this week, locks in the cost of tuition for students over their four years of study at Heidelberg. Combined with a Test-Optional Admission Option for incoming students, a Four-Year Graduation Guarantee, the HYPE Career Ready® Program, and the PlusOneAdvantage® MBA Tuition-Free Scholarship Program, the tuition guarantee complements Heidelberg's strong student-value and high student-impact initiatives. The package promotes accessibility, affordability, student success, and student placement, all key drivers of Heidelberg's core student mission.
A new Heidelberg University 2021-2025 Strategic Growth Action Plan is in the early planning stages, under Huntington's leadership.
Kathy noted that all stakeholders have had a role in Heidelberg's success and progress over the past several years, and she credits stability at the highest level of leadership. "It takes a commitment to collaboration among the Board, senior leadership and the entire Heidelberg community to help Heidelberg rise.  Stability at the presidential level allows us to achieve our goals and build engaging personal relationships that lead to lives of purpose with distinction for all of our graduates.  We are all very optimistic about the future," she said.
"With a strong collaborative spirit, we have advanced Heidelberg in so many great ways toward successfully fulfilling our student-focused Core Student Mission," President Huntington commented. "But we have so much hard work yet to accomplish.  It remains a privilege to lead Heidelberg, and I look ahead with great excitement as our university continues to rise in so many important ways."
He began as Heidelberg's 14th president in July 2009. In their 12th year as residents of Tiffin and Seneca County, he and his family have established roots in the community they now call home. He is a past chair of the Board of Trustees of the Tiffin-Seneca Economic Partnership and its Executive Committee. He is also a member of the Board of Trustees of the Tiffin Community Foundation and a member of the Tiffin Rotary. In addition, he became a member of the Lakeside Chautauqua Board of Directors this past summer.
In higher education, President Huntington serves as a member of the Board of Trustees for the Ohio Foundation of Independent Colleges (OFIC) and as a Trustee for the Association of Independent Colleges and Universities in Ohio (AICUO). Nationally, he served on the NCAA Division III Presidents Council and as a member of the Strategic Planning and Finance Committee, while also representing the Ohio Athletic Conference on the NCAA Division III Presidents Advisory Group for seven years.
Published on
Nov 13, 2020