TIFFIN -- The Heidelberg University track & field teams will be sending a pair of athletes to the NCAA Division III Championships.  Dan Stoll qualified for both the 200 Meter Dash and the 400 Meter Dash while Ariana Coleman qualified in the long jump. 
The women's long jump is scheduled for a 12:50 start on Friday, March 13.  Both of Stoll's prelims will take place on Friday afternoon.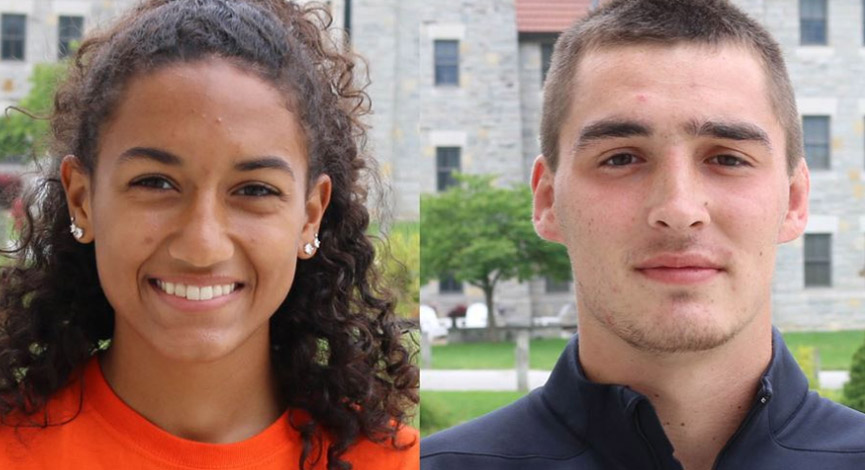 Coleman's top mark of the season was a leap of 18' 7.75" at Wittenberg.  She enters the meet with the seventh-best mark.  
"I can't say I'm surprised to see Ari already in this situation, even as a freshman," said Head Coach Brian Grime.  "She is a competitor, which is tough to channel in the field events for some.  She's a gamer and I know she will put her best foot forward this weekend."
Stoll had the 13th-fastest qualifying time in the 200, 22.10, which came at the OAC Championships.  In the 400, he has the 17th-fastest time.  He ran a 49.49 at OACs.
"I've never met someone that is quite as intense as Dan," said Grime. "He has worked incredibly hard to be here, and has high expectations for himself.  He deserves to be among the best in the nation."  
Records indicate that Stoll is the first 'Berg male athlete to qualify for two individual sprints at the national meet.  
The meet will take place at the JDL Fast Track in Winston-Salem, N.C.