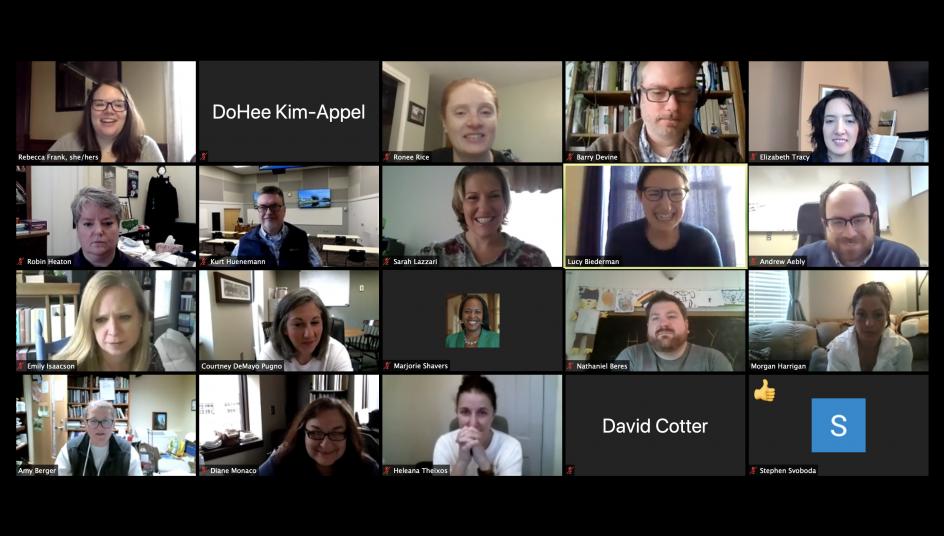 Several dozen faculty members jumped at the chance to see some familiar faces, even if on Zoom, during TechSlam on Nov. 5. TechSlam, organized by Instructional Technologist Rebecca Frank, gave the professors a chance to demonstrate five-minute "crash courses" about cool tech tools they've utilized in their classrooms, especially since many have or are teaching partially remotely this semester.
According to Dr. Courtney DeMayo Pugno, 'Berg faculty have done a great job making the most of the changes in teaching during COVID-19, finding different, exciting ways "to engage the students and to grow as teachers." TechSlam supported these efforts.
There are so many technological options for classrooms today that it is impossible to investigate and test all of them, said TechSlam presenter and English professor Dr. Barry Devine. "TechSlam is an amazing way to see what our colleagues have discovered and to learn how we might use those technologies in our courses as well," he added. He presented his session on Using TurnItIn as a Teaching Tool and a tool to help students improve their writing.
    
Lucy Biederman shared a 3-minute movie she made on Using Hypothesis as a Reading Guide. Andy Aebly demonstrated a STEM-based resource called PhET Simulation for in-class and lab demos. Nate Beres shared an equation editor white board available via Google Docs.
"It's been a productive way to stay on task," Nate said. "Overall, students have found they really like doing group work this way."
The objective of TechSlam is to introduce new tech tools, tips and ideas to spark excitement and encourage teaching innovation. By all accounts, it worked. Some participants even enjoyed the role of being a student. "TechSlam gives professors the opportunity to do what we do best … teach cool stuff," said instructor Helena Theixos. "But I also got to be a student and a supportive colleague, rolled into one. The event is helpful to me on a million levels, including reminding me that we're all working to improve ourselves and our Berg community."
Emily Isaacson presented The Jigsaw Method & Zoom Breakout Rooms – "a fantastic way to get students into groups, talking to one another, and groups talking to groups."
Stephen Svoboda demonstrated an online discussion tool called Yellowdig that integrates into Canvas in Light Your Out-of-Class Engagement on Fire. The tool, Stephen said, "gameifies discussion where students are responsible for keeping discussion moving." Along with Robin Heaton and Barry, Stephen piloted this tool in a new gen-ed class this semester.
Faculty members said they enjoyed interacting with each other and witnessing the classroom dynamics that colleagues have found effective, said criminology professor and presenter Sarah Lazzari. "It was so fun to get a glimpse into other classrooms," Sarah said. "I also enjoyed seeing other forms of technology that my colleagues use."
For music professor Elizabeth Tracy, TechSlam was a bright moment in a challenging semester. "It felt good to be with colleagues, even virtually, to share what is working and to learn from each other," she said. "It was a refreshing blend of best teaching practices and innovation in the classroom."
Published on
Nov 12, 2020