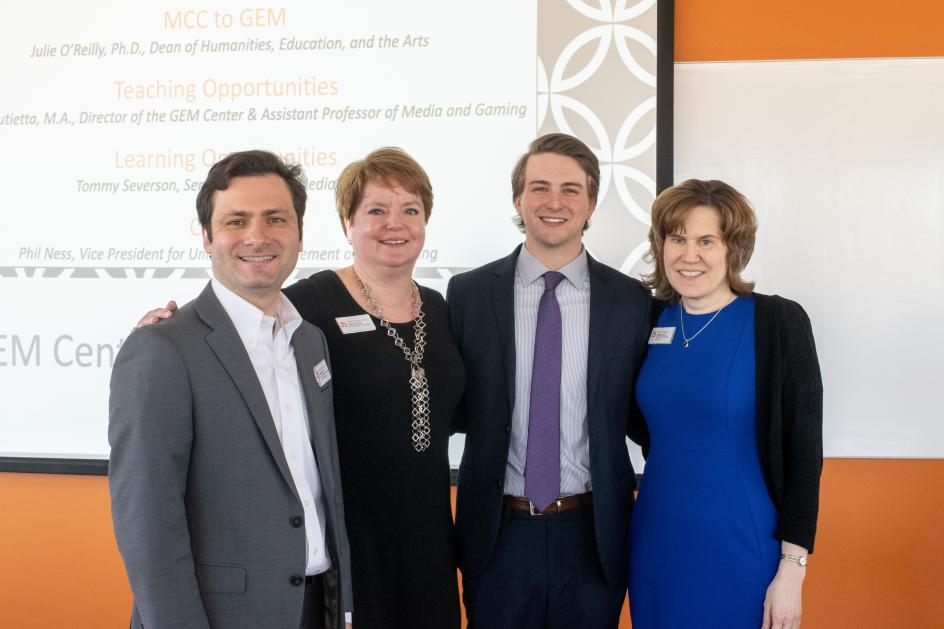 Along with the $25 billion – and growing – videogame industry, the number of media and communication majors and minors at Heidelberg has increased significantly, too.
Now, those students and their professors have a new home worthy of their creativity, energy, talents and potential.
On Friday, Heidelberg dedicated the fully digital GEM Center, short for Gaming, eSports and Media, as part of the winter Board of Trustees meeting. The former Media Communication Center was transformed into the GEM Center over the past year to house a lab for the new video game production major, which launched last fall, the student-operated radio and TV studios and the up-and-coming eSports club team. The GEM Center lab features 30 computer stations, group learning areas, large flat screens, additional new technology and guest seating areas.
Media and communication majors outgrew the former MCC and its 15-seat classroom, said Dr. Julie O'Reilly, dean of Humanities, Education & the Arts. The new facility "encourages even more students to study media and participate in events and activities there," she said.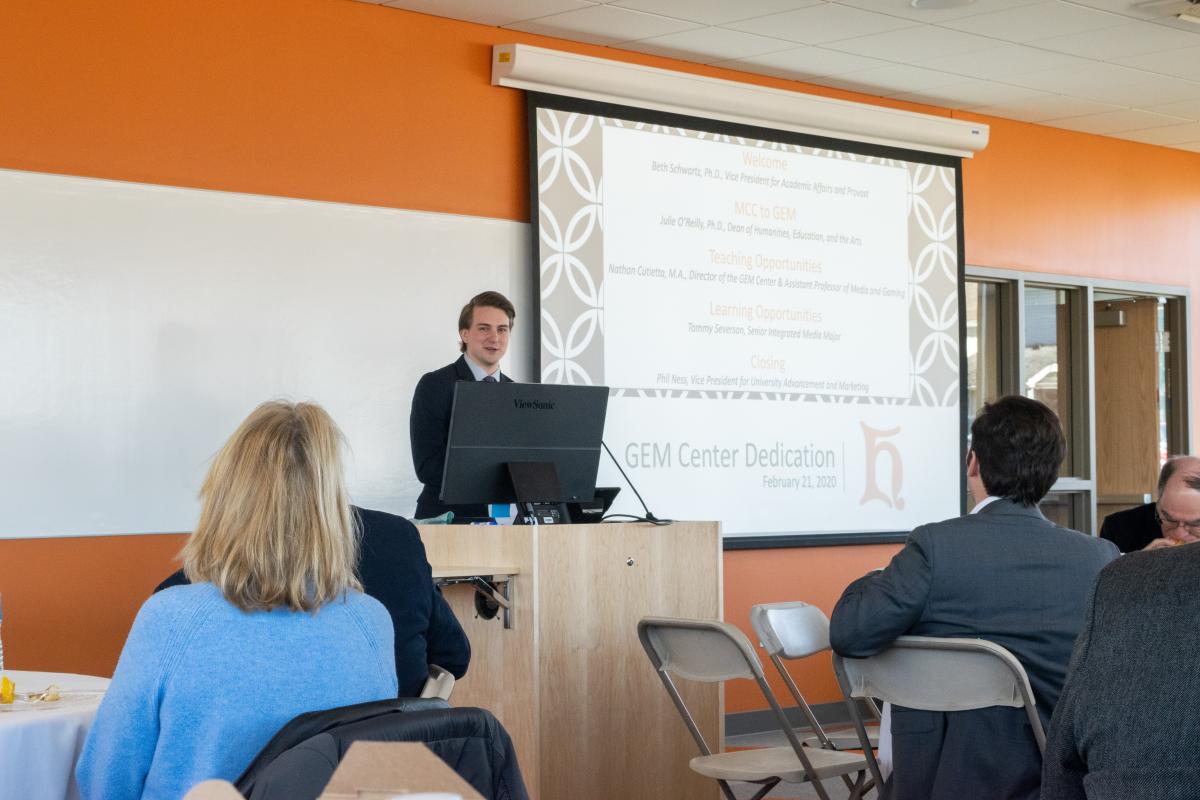 One such student, senior Tommy Severson, has developed a passion for media from his work on his own radio show and his interactions with Nathan Cutietta, assistant professor of media and gaming and director of the GEM Center.
"Nathan encourages my creativity," Tommy told those gathered for the dedication. "Media has become a passion for me in an area that's fully acceptable for people to grow in."
For his part, Nathan has great excitement about the possibilities of the center to prepare students for a burgeoning industry. The opportunities surpass just creating video games, he said. Already, students are working on a range of applicable research projects that would have been previously unavailable to them.
"We're also addressing real problems like cyberbullying and representation of gender and equality in the industry," Nathan said.
The GEM Center allows for excellent collaboration between faculty and students and the personal attention for which Heidelberg is known – and which Tommy spoke about.
"For the Media Department, it's always about teaching. The GEM Center will allow us to do this even better with our continued commitment to student growth and creativity," Nathan said.
Currently, the radio studio is up and running. Finishing touches are being put on the TV studio. With those two studios, students will have the opportunity to learn to use tools they'll need in the workplace. The GEM Center also is home to a growing eSports club team that is "growing like wildfire," he added.
Heidelberg is so excited about the GEM Center that Nathan is taking it on the road this fall. He's preparing to teach College Credit Plus courses in local high schools. eSports summer camps are also in the works.
Collectively, on-campus and off-campus opportunities will position Heidelberg to be a leader in the marketplace, said Phil Ness, vice president for University Advancement & marketing. "This gives us the ability and strength to succeed, and that takes great vision," he said, adding that the infusion of capital on campus over the next few years – starting with the GEM Center – will be transformational for the university.
Published on
Feb 21, 2020