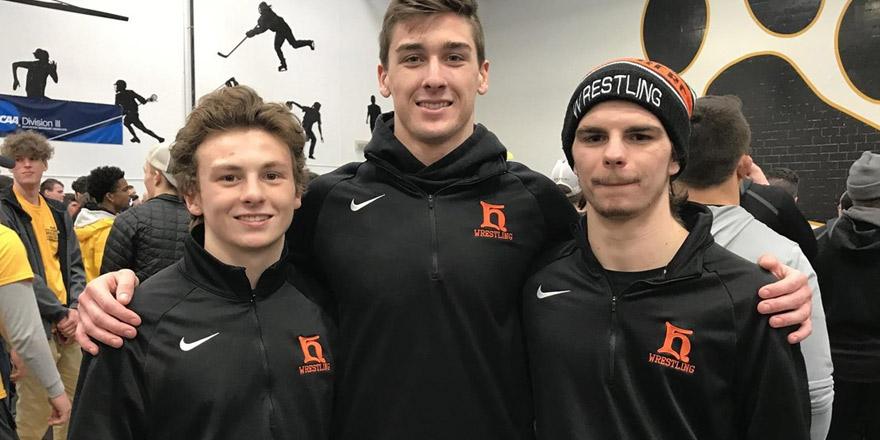 ADRIAN, Michigan -- For the second year in a row, Dylan Roth is headed back to the NCAA Division III Championships.  Roth, who won the 184 weight class, is the lone representative for the Heidelberg University wrestling team to advance out of the Central region.  
As a team, Heidelberg finished 11th.  Of the 30 wrestlers headed to nationals from the Central region, 20 are from the Ohio Athletic Conference.
At 184, Dylan Roth handled his business.  He opened with a pin of Clayton Todd (Alma) in 57 seconds and followed that up with a 13-3 major decision win over George Lassnick (Mount Union). 
Roth secured his spot at nationals with a major decision win over Corbin Bunsold (Otterbein) in the semifinals, winning 16-5.  In the finals, he faced Antonio McCloud (Mount St. Joseph).  A first period takedown and four nearfall points lifted Roth to an 8-0 major decision win.  
With the wins, Roth is 36-1 on the season.  
Brainard won his opener at 133 with a 9-7 win over Seth Majewski (Defiance).  Squaring off with Charles Nash (Baldwin Wallace), a riding time point was the difference in a 4-3 loss.  In the wrestle-backs, Brainard pinned Jackson Lakso (Otterbein) in 2:54. 
On day two, he majored Elijah Sanchez (Adrian), 13-4.  Next, he lost to David Massey (Mount Union), 9-5.  In the match for fifth place, Owen Doster (Wabash) took an injury default, giving Brainard the win.  He finishes his Heidelberg career with 67 wins.  
At 125, Hadley started with a 7-2 decision over Dajun Jones (Adrian) before a loss to Carlos Champagne (Wabash) sent him to the other side of the bracket.  There, he picked up a tech fall over Adam Kates (CWRU), 19-4.  
On Saturday, Hadley opened with a narrow 9-6 loss to Chase Beecher (Alma).  The loss sent the HU freshman to the match for seventh place.  There, he fell to Cameron Malich (Olivet), finishing eighth as a freshman.  He went 19-18 on the season.  
From Friday
Hayden Bates opened with a pin at 141, but lost in overtime in his next bout.  In the consolation bracket, he lost once more.  His season comes to an end with an 18-7 record.
Opening in the rat tail at 149, Slade Todd lost, then won his way into the main bracket.  He was eliminated in a high-scoring 16-14 affair.  He compiled a 21-15 record this season.  
Tre Bogetich went 1-2 on the day at 157 and ends with a record of 13-15 on the season.
At 165, Devin Miller picked up an opening round major decision, but lost his next two matches.  He went 20-14 as a sophomore.
Similarly, Jeremiah Slagle won his opener with a major, but dropped his next two bouts.  He went 20-17 on the year.  
Da'Veon Parker bounced back after an opening round loss by beating Mason Morris (Defiance), 8-4.  Parker, though, would lose his next match -- wrapping up the year at 12-22.  
At 285, Eric Adkins lost his first two matches.  He went 15-14 on the year.