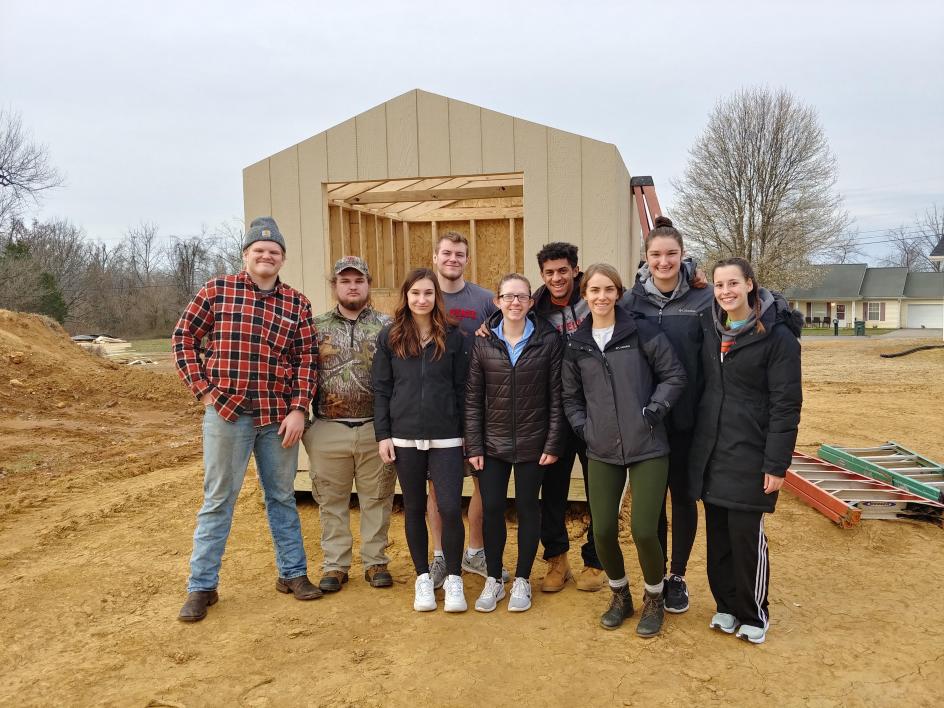 The Office of Civic Engagement and the Alternative Break Club is sponsoring three Alternative Break trips this year. During spring break this year, three groups are volunteering for service projects with Habitat for Humanity in Elizabethtown, Kentucky; the Big Oaks Animal Rescue Farm in Hodges, South Carolina; and the Back Bay Mission in Biloxi, Mississippi.
Habitat for Humanity
A group of eight students and a professor are in Elizabethtown to volunteer with the Hardin County Habitat for Humanity. While there, they will be helping to complete miscellaneous tasks to assist in the building of a home that Hardin County HFH started. After serving, the students also will have the opportunity to explore Mammoth Caves National Park and the Kentucky Museum. Students participating in the trip include: Chase Morrison (student coordinator), Blake Jerome, Cory Gilbert, Christina Mealwitz, Heather Ule, Alyssa Pecharka, Kellen McGuire, Emily Bogard and Dr. Morgan Kocher (faculty advisor).
Day 1
Blog by Christina Mealwitz​
Our first day volunteering at the Hardin County Habitat for Humanity location was a fun experience. We quickly learned and picked up on proper construction skills. After learning these skills, we were able to roof two sheds completely from start to finish which most of us had not really done before. We were able to get to know the Habitat directors as well as get to know one another while building. After one day down, I can't wait to see what the following days have to offer for us! We're learning, giving back and having fun ... what more could one ask for on spring break?! 
Big Oaks Animal Rescue Farm
Students have traveled to the Big Oaks Animal Rescue Farm in Hodges. While there, they will be working on the farm to help clean up and take care of the farm animals. Participants include Tiffany Holycross, Kayla Buck, Emily Fox, Anna Zeller and Sydney McCoy (student coordinator). Julie Arnold is the staff advisor.
Back Bay Mission
Ten members of the Heidelberg community are volunteering at Back Bay Mission in Biloxi, Mississippi. They are working on construction of houses that were affected by Hurricane Katrina as well as helping/serving homeless veterans at the Micah Day Center, the Food Pantry and the Loaves and Fishes restaurant. Participants include faculty/staff advisor Paul Sittason Stark, student coordinator Maram Alforgani, Tiffin resident Don Krintzline and student volunteers Saefelislam Forgani, Andre Navas Villafuerte, Ellen Gonzalez Jacquez, Sayaka Akiyama, Huizi Wang (Katherine), Amanda Sharier and Kelsey Grove. 
All about Alternative Break trips
Student coordinators recruit, train and facilitate these trips. Funding for the student coordinators and the faculty/staff advisors come from the The Sue and Ralph Quellhorst Endowment for Student Community Service. Student Senate also provides a grant to each trip that reduced the cost for students.
The purpose of the Alternative Break trips is to engage the community in service projects for a short, pre-defined time; make a tremendous impact in the world through acts of charity, goodwill and justice; provide urban, rural and intentional experiences for Heidelberg students; provide a service-learning model for experiencing different cultures and the role of leadership, and better prepare students to be socially conscious citizens of the world.
Published on
Mar 10, 2020