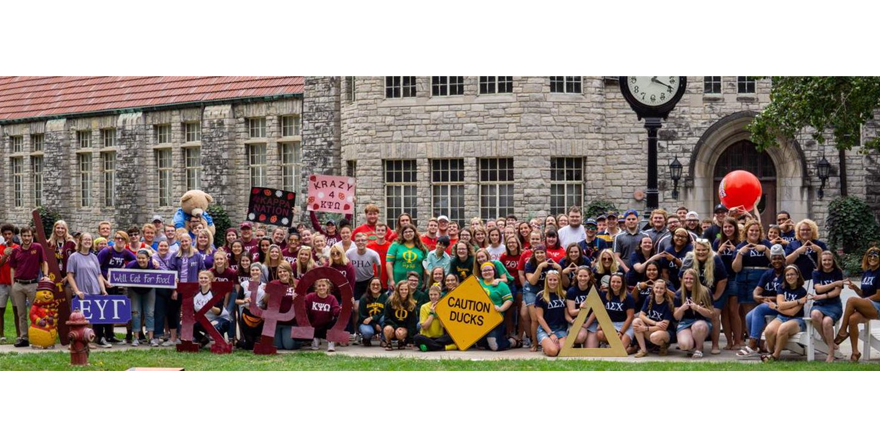 The brotherhood and sisterhood of Heidelberg's Greek groups is immeasurable. So when the campus closed in March because of the COVID-19 pandemic, they were left with a void. But it didn't last long.
Like many of Heidelberg's student organizations, the Greek groups and their executive board have stayed connect with each other with virtual weekly meetings. A big challenge came to life this week when all 10 Greek groups participated in the traditional Greek Week activities – this year on social media.
Justine Mitchell and Lexie Page-Boyd, vice presidents of Greek Life Council, have orchestrated the virtual Greek Week with a series of daily challenges by which groups create videos they are posting on Instagram.
"We wanted to create an outlet for members of Greek life to share their love for their groups at the Berg while also boosting morale during these strange times," Justine said. "We just wanted to create fun challenges that a lot of people could be involved in."
Lexie and Justine reached out to Allison Krebs, who manages the Greek Life Council's Twitter, and Allison designed an Instagram profile for the Greek Week challenges. Since Virtual Greek Week started on Monday, she's been sharing photos from the various challenges.
Monday Challenge: See some letters, send some letters. In order to flood social media with Greek pride, members were encouraged to post a photo wearing their letters and those who saw the post followed with their own photo.
Tuesday challenge: Object Toss was inspired by a Tik Tok trend where people record themselves catching and then throwing an object. When all the videos are compiled, it appears as if everyone is throwing objects to each other even though they are all in different places.
Wednesday Challenge: The Bottle Flip Challenge is a compilation of a group member trying to land a bottle flip and the fun reaction when someone lands one.
Thursday Challenge: Full House is also a Tik Tok trend where group members take short videos of themselves doing something unusual around the house and then wave at the camera. The Full House theme song is then added to the video.
Friday Challenge: Throwback is exactly how it sounds! Pick your favorite throwback throughout the years. The GLC exec board Executive Board did a Harlem Shake for our throwback. 
Saturday Challenge: Create a thank-you video to essential workers to express their appreciation and honor everyone who's working on the front lines to keep us safe and with needed supplies during these atypical times.
So far, Virtual Greek Week has gone very well, and all it took was a little creativity and communication.
"Overall, we didn't have too many logistical obstacles to overcome. We just had to be creative," Justine said.  "We are beyond excited to see what all of the groups put together for the challenges this week and we are grateful that we were able to spread some happiness." 
Check out the Greek Week Challenges at @BergGreekLife.
Published on
Apr 29, 2020