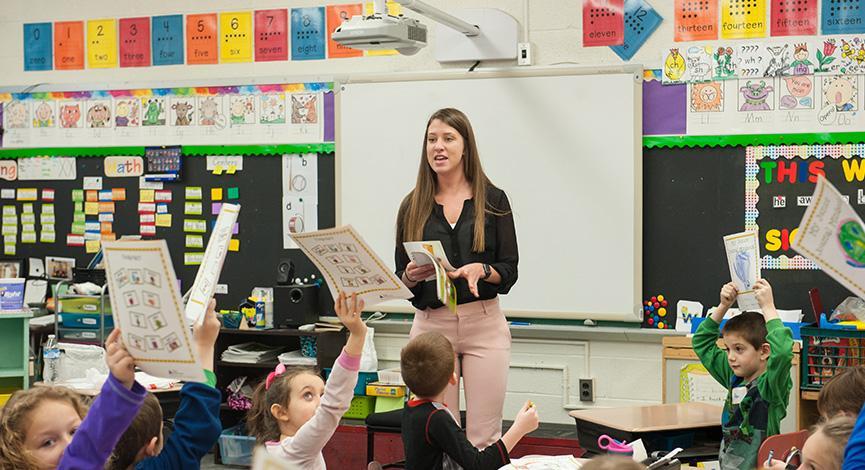 Happy National Teacher Appreciation Day! On a day singled out to honor teachers and recognize the enduring contributions they make in our lives, we asked Class of 2020 education majors to reflect on their first year in the classroom as they launch into their careers to help mold and guide children in positive directions. As you might imagine, the pandemic threw them a curveball, but they walked through those challenges armed with a strong foundation gained at Heidelberg.
Here's what five young alumni teachers had to say about their first year in the classroom.
What has your first year of teaching been like in the midst of a pandemic?
Madalyn Branham, teaching first grade at Bridges Preparatory Academy:
"We started off the year in our classrooms teaching students both in person and online at the same time. Then around Thanksgiving break, we switched to being virtual for 4 months! That was the most challenging. We just came back to seated instruction March 1st."
Krystina Fultz, teaching third grade at Monroe Preparatory Academy:
"This first year of teaching has truly been one of a kind. Every day there are new twists and turns awaiting. Between modifying classrooms to fit protocol to completely changing how you teach to ensure the safety of all your students through the school day, there is always ever-changing information that makes the day interesting. This year has taught me so many new skills that can be used in future classrooms."
Megan Gwirtz, grades 5-12 choir director and assistant band director at Ontario Local Schools:
"Every day is a new challenge with new adventures, but being able to sing and make music with my students makes every day is worth it!"
Kelsey King, teaching fifth grade resource language arts at Norwalk Main Street Intermediate School:
"Challenging to put it nice and simple. Thankfully my school district has been in-person the whole year but keeping track of students coming in and out of quarantine and the many adjustments of this ever-changing school year has made it a challenging year."
Lindsey Robinson, 3rd/4th grade in an ED/MD unit at Clark County ESC:
"This year has been chaotic as regulations change, students and staff are quarantined, and administrators continue revising plans. My school has been virtual a few times but was fortunately able to remain in person most of the year. In education flexibility is key, but this year it is more important than ever. We just try to make the most of the time we have together in whatever platform that may be."  
What from your Heidelberg experience has prepared you for your first year of teaching? 
Madalyn:
"One of the things that Heidelberg always reminded us and taught us is students come first. Think about their needs and where they are while preparing lessons. This helped a lot while preparing online instruction. Also learning how to navigate online resources for reading and math through virtual Math Camp game nights has helped tremendously in making online learning fun and retainable for the students."
Krystina:
"The main skill I learned through my time at Heidelberg is how to be flexible and collaborative. I think being flexible and able to collaborate with team members has been the most important through this ever-changing school year to make sure the students get the most out of every day."
Megan:
"Heidelberg helped me be able to adapt on the fly, bettered my communication skills, and helped me with resources."
Kelsey:
"A few things that my Heidelberg experience taught me that have been beneficial with this crazy pandemic year is to be flexible, accepting of change and at times having to learn to just go with the flow."
Lindsey:
"The courses I took at Heidelberg taught me to problem solve, critically think, collaborate, and always be over-prepared. The trips to the U.S.-Mexico border and Nicaragua as well as Math Camp taught me how to be positive, flexible, and resourceful. All of these experiences helped tremendously as plans this year are constantly changing. Thanks to the Berg, I've been able to roll with the punches and keep moving forward!"
Published on
Apr 30, 2021