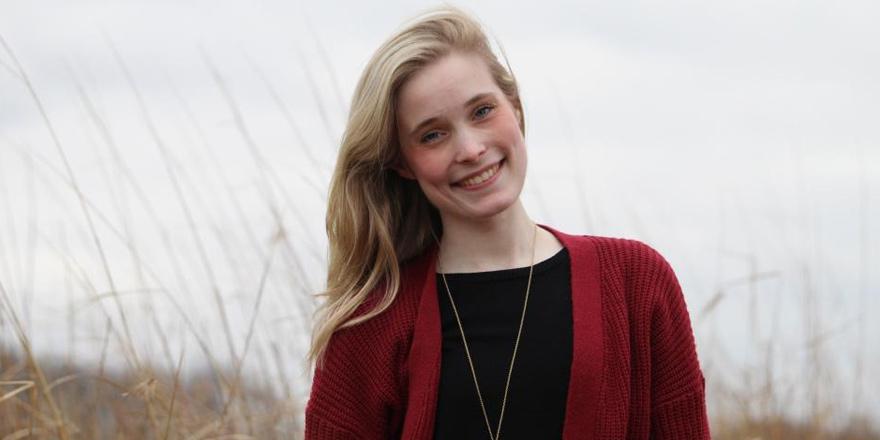 May graduate Katie Bauman is the recipient of the $2,000 Dr. Harry Hale Graduate Fellowship. The award was announced by Dr. Sharon Emerson-Stonnell, president of Alpha Lambda Delta.
Katie was inducted into Alpha Lambda Delta, an academic honorary, in 2018. While at Heidelberg, she majored in political science. She's off to pursue a degree in law at The Ohio State University Moritz College of Law.
"I will be attending law school to delve deeper into my passion for constitutional law. With my law degree, I will work to uphold civil and human rights," Katie said. 
Twenty-six graduate fellowships are given annually by Alpha Lambda Delta to its members from a national pool of competitive applicants. Award amounts range from $2,000 to $7,000 and are used to offset the expense of pursuing graduate or professional studies. The graduate fellowship is for the 2021-22 academic year. 
Each fellowship is named for a person of significance to Alpha Lambda Delta. Dr. Harry Hale was a long-time friend of Alpha Lambda Delta, serving two terms as National Council Member-at-Large, and as chapter advisor at the University of Louisiana – Monroe for over 20 years. A native of California, Dr. Hale received his doctorate in Sociology from the University of Tennessee. After receiving his Ph.D. degree in 1963, he pursued most of his career in the southern region of the country, teaching at universities in California, Tennessee, Kentucky and Louisiana.
About Alpha Lambda Delta
Alpha Lambda Delta Alpha Lambda Delta is an honor society that recognizes students' academic success during their first year at a college or university. Founded in 1924, Alpha Lambda Delta has over a million lifetime members and is present on 280 campuses nationwide. Alpha Lambda Delta's mission is to "encourage superior academic achievement, to promote intelligent living and a continued high standard of learning, and to assist students in recognizing and developing meaningful goals for their unique roles in society.