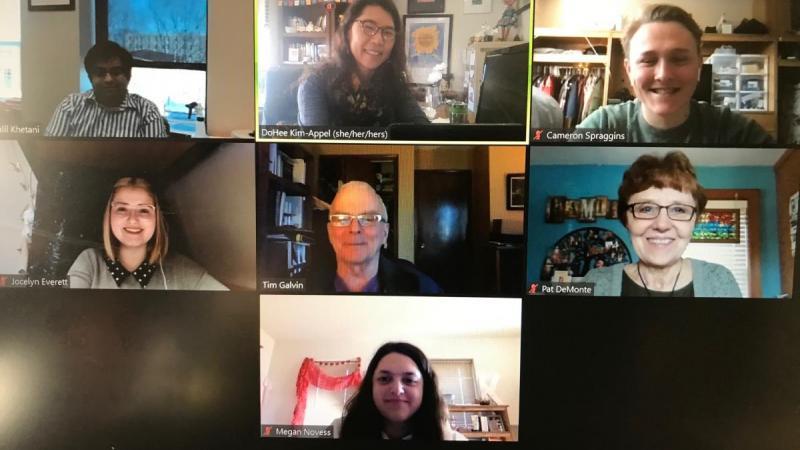 The Heidelberg student group Enactus and the Seneca County Council of Homelessness (SCCoH) collaboration has been critical to the Tiffin community in raising awareness of homelessness and taking action.
This initiative began when Heidelberg Enactus reached out to the former director of United Way, Pat DeMonte, in the Spring of 2020 to see where they could contribute to tackling the local homelessness issue. Further, the members of Enactus gained a better understanding of the local needs based on the work done by the students from Professor Jim Hill's class who had conducted a survey in 2019 in partnership with United Way about the local awareness of homelessness.
In the Fall of 2020, Enactus reconnected with the United Way of Tiffin, and current director, Kari Steele, who then introduced them to the Seneca County Council of Homelessness (SCCoH).
Listed here are Enactus Project members:
Cameron Spraggins - Business Administration, Finance and Project leader
Jocelyn Everett - Business Administration, Management
John Hassler - Business Administration, Marketing
Spencer Tredwell - Accounting
Megan Novess - Business Administration, Marketing & Student President of Enactus
While working closely with SCCoH, the Enactus group created a Facebook page for SCCoH that currently has 665 followers and has been quite instrumental in raising education and awareness about local issues regarding homelessness and the efforts to tackle them.
Currently, the Enactus group is working on several items with SCCoH that will soon be launched. They are creating a website for SCCoH that provides information to people seeking help, provides statistics and anecdotes regarding the local issues of homelessness, how they are being tackled, and provides an avenue for raising funds for the planned homeless shelter. The Enactus group is also creating a promotional video for SCCoH to raise funds, generate awareness, and plan various fundraisers with local businesses.
"The Enactus project team is passionate. They presented themselves professionally, responsibly and were accountable. As a SCCoH board member, I am incredibly proud that they are Heidelberg students," said Dr. DoHee Kim-Appel.
The long-term goal for the Enactus students is to continue to participate and contribute to the SCCoH, implementing various programs for the future residents of the shelter when it's open.
Enactus is open to all Heidelberg students, not just business majors. We appreciate and seek out diversity of thought and expertise.
Enactus advisor Dr. Salil Khetani, assistant professor of Marketing, and Dr. DoHee Kim-Appel, associate professor of Counseling & SCCoH board member, are collaborating and guiding the Enactus project members.
Pictured from top left to right: Dr. Salil Khetani (Enactus advisor), Dr. DoHee Kim-Appel (MAC & SCCoH Board member), Cameron Spraggins; middle row: Jocelyn Everett, Tim Galvin (SCCoH Board president), Pat DeMonte (former United Way of Tiffin Director & interim SCCoH Board member), Megan Novess
Published on
Apr 16, 2021