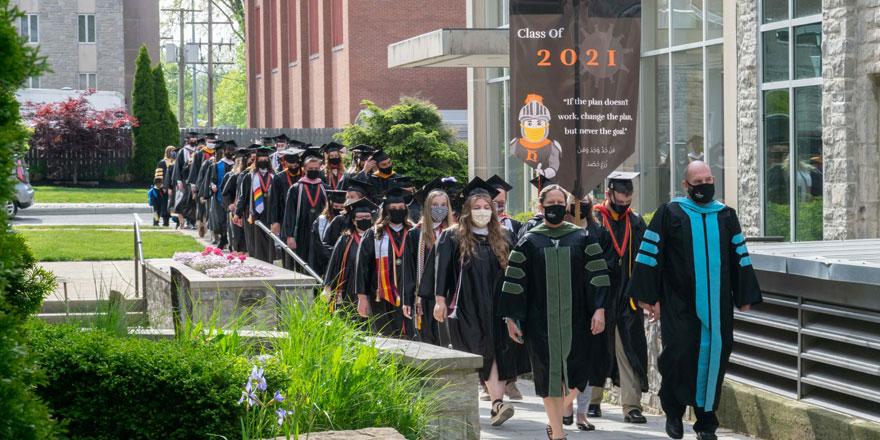 In a year like no other, the sacrifices, struggles, even the victories that finally came this spring semester, all led to a glorious Commencement day for 267 of Heidelberg's newest alumni.
"It's nice to enjoy some pomp after all the circumstances that have crushed us over the past 14 months," said President Rob Huntington. "We did the best we could to come to this moment."
But Sunday was a day for celebration. With COVID precautions, Commencement was moved to a different venue, in front of the Campus Center, and divided into five "pods," grouped by majors. Despite the differences, the graduates still enjoyed many of the beloved Commencement traditions.
As they always do, they processed behind their newly minted class banner. As the ceremony began, President Huntington asked them to turn to their families and offer an ovation of gratitude.
"We all know that our students don't get here alone," he said. "It takes a lot of families, friends, extended families, teachers, and current advisors."
He expressed special gratitude to the faculty, staff, coaches, administrators, alumni, and trustees who have helped us get to this day. "They have been at the vanguard of making us successful."
This year's undergraduate and graduate commencement speeches were delivered virtually by Leah Cordy, '20, who received her MBA degree this year, and Ayanna Hayes, who received her Bachelor of Science degree in biology. Also part of Commencement was the virtual presentation of the Class of '21 banner by Maram Alforgani, who received her Bachelor of Arts degree in international studies.
As President Huntington noted, this year's banner is believed to be only the second in the long tradition of class banners to have two spoken languages – Arabic and English – to appear on the design. 
Each of the graduates received a white rose, symbolic of "our respect, our admiration, our encouragement, our friendship, and our love," President Huntington said.
His parting advice for the graduates: "Stand with courage, make your voice heard and lead your lives with purpose with distinction."
In all, 78 students received master's degrees (Counseling, 24; MBA, 54, Music Education, 1); 58 students received the Bachelor of Arts degree; 128 received the bachelor of Science degree; and 3 received the Bachelor of Music degree. There were 15 states and seven countries represented among the Class of '21.
Commencement Addresses & Class Banner Presentation
Published on
May 16, 2021