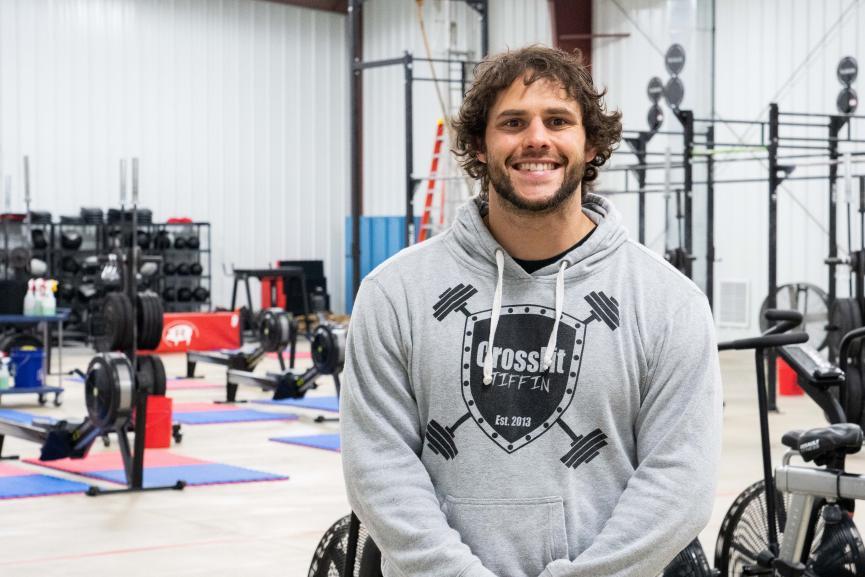 CrossFit gym owner and athletic trainer Jared Ruffing, '10, has knocked it out of the park, turning his passion for fitness into a successful local business alongside his brother, Justin.
Jared graduated from Heidelberg with a bachelor's degree in Athletic Training and Sport Management, focusing on Fitness. Years before coming to Heidelberg, even as far back as junior high, he was interested in athletic performance enhancement.
"I loved playing football and other sports and wanted to improve how I played so I started going to the weight room," he explains.
 
Jared's interest in sports continued to grow over the years and he soon found himself playing football for Heidelberg. His four years as a Student Prince taught him time management, commitment and the importance of teamwork. Being a creative person, he also became skilled at problem-solving and improvising – all skills that have proved valuable in his CrossFit business.
Especially time management. Even before he opened his business, he became the head athletic trainer at Seneca East High School – a position he holds to this day. 
About the same time he graduated, Jared and his brother and a few friends started doing CrossFit, described as both a physical exercise philosophy and a competitive fitness sport incorporating elements from high-intensity interval training, weightlifting, plyometrics, powerlifting, gymnastics, calisthenics and other exercises.
His passion for the methodology and what it can provide for people caught on quickly and he and his brother began conversations about starting their own gym. CrossFit Tiffin opened in August 2013.
"CrossFit training is for everyone because it can be scaled to fit the fitness level of each individual," Jared says. "There is no age limit. … What usually prevents people from liking CrossFit or trying it involves their own self-imposed limitations."
Today, CrossFit Tiffin offers a variety of more than 30 classes, such as CrossFit, QuickFit and CrossFit Kids. The staff is made up of four highly experienced and qualified coaches who hold a variety of certifications. Jared is certified in several areas, including strength and conditioning. Additionally, he regularly hosts practicum and internship students from Heidelberg, who are learning the ropes of the fitness world first hand.
In March, CrossFit Tiffin moved to a new location that nearly triples the size and opportunities for clients. Additionally, Jared and Justin also invested more than $75,000 to upgrade the expanded space and purchase new treadmills, rowers, barbells and other equipment, and install new flooring. The co-owners plan to add more equipment as they continue to grow into their new space. 
Business owner to athletic trainer (and back again)
An average Monday-Friday for Jared starts at approximately 4:15-4:25 a.m. to get ready for his first class of the day at 4:45 a.m. After the first class, he is joined by Justin for the remaining morning classes. When he's finished at the gym, he heads home until 3 p.m., and transitions to athletic trainer. As the head trainer at SEHS, he remains at the school until all practices or games are over. He provides coverage "in the form of first aid, injury prevention, diagnosis and treatment of injuries, rehabilitation, strength and conditioning, and more."
"I feel very fortunate in that I have never second guessed the profession I have chosen to pursue," says Jared.
The affects of COVID-19
It's been roughly a year since COVID-19 forced business owners to rethink things. When quarantines and shutdowns started, Jared shut down the gym for about three months. But that didn't stop the members from continuing their training. Members were given the opportunity to borrow equipment and work out at their homes. 
"We were very fortunate to have such a good membership base that wanted to keep their memberships active during the shutdown," he says.
In June, he was able to reopen the gym after implementing major COVID-related protocols. The gym was divided into lanes with all the necessary equipment they would need for their classes. He restricted the number of participants in each class, and increased cleaning frequency and intensity after each class.
"Overall, it works really well and we actually have had an increase in membership that has led to us moving to the larger gym space," Jared says.
Knowledge for students
Jared offered some advice to students that is relevant to both owning a business and being an athletic trainer:
"You will build impactful relationships with wonderful people. People come and go, but life happens. Be prepared and do not hold that against them.
"When you have the opportunity to shine, make sure you knock it out of the park."
---
by Bailey Walter, '23
Published on
Apr 13, 2021
Programs
Master of Athletic Training
Sport Management