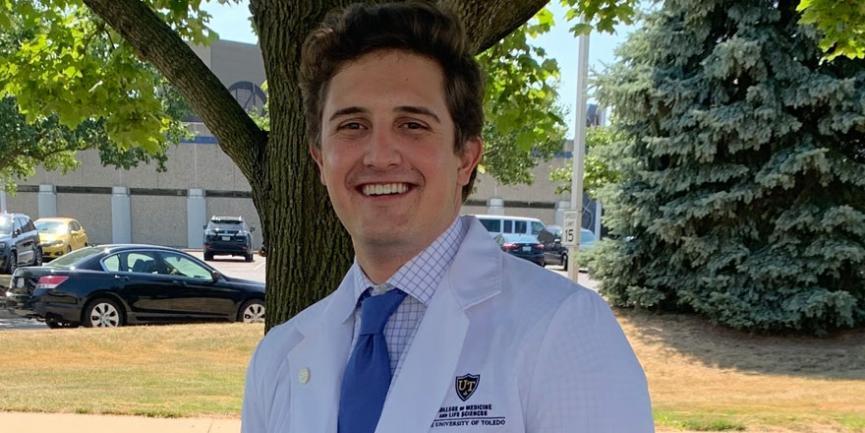 When one door closes, another one opens. That was the case for '19 alum Caleb Gerber, a biology major who's full swing into his first year of medical school. Like many people who apply to professional school, he didn't get in on his first try. So he got creative. And he stayed persistent.
Caleb took a detour to medical school, completing Heidelberg's PlusOneAdvantage® MBA program. The program, open to all Heidelberg undergrads, regardless of major, helped him diversify his skillset before starting med school at the University of Toledo College of Medicine and Life Sciences (UTCMLS).
"Going through the MBA curriculum gave me a chance to continue to further develop leadership and communication skills," Caleb says. "I learned that during undergrad, particularly through student organizations. But the MBA program gave me more of a professional perspective on these skills, and how to work as a team in an organization.
"I'll be working with and leading teams the rest of my career, and the skills learned in the MBA will prove invaluable."
Serving the underserved
Now fully immersed in his first year of med school, Caleb was recently named director of finance for UTCMLS's CommunityCare Clinics. In addition to full-time medical studies, he manages all of the financial aspects of the organization, including expenditures, helping to oversee fund-raising events and working with the Ohio Association of Free Clinics to secure funding.
The three CommunityCare Clinics provide free, quality healthcare to underserved populations in Toledo and raise healthcare awareness in the community.
"At these clinics, we try to provide comprehensive care to our patients and all services, plus referral services, all free of charge," explains Caleb. "It's a great organization that really benefits both the community and the students who get to learn there." The clinics have recently implemented COVID screening and vaccination events.
The Heidelberg MBA also gave Caleb a taste of his future in the medical profession. Every week or two, students participate in lectures about the business of medicine with topics such as healthcare costs and marketing. "The MBA gave me a strong foundation in these topics, allowing me to have a better understanding of how intricate and challenging this area of healthcare can be," he says. And it led to his position with the CommunityCare Clinics.
A leader in the making
That's not the only leadership role Caleb has assumed. He's also serving as the vice president of the Orthopedic Surgery Interest Club and the Physical Medicine and Rehabilitation Interest Club at UT College of Medicine. "I really enjoy learning about the musculoskeletal and nervous systems," he says, adding that his interest was fueled when he shadowed an orthopedic surgeon while he was an undergrad at Heidelberg.
So how's med school going overall? "Things are going well," Caleb says. "It's definitely a transition from undergrad, but I still felt very prepared coming into this year."
Many Heidelberg alumni who graduated with degrees in natural and health sciences report that their coursework and lab experiences – such as working in the cadaver lab as Caleb did – give them a leg up on their grad school classmates. He's already been exposed to much of the material in his current courses. "We're now just building upon it, and learning to transfer the knowledge into treating patients."
Military medicine
While there's still time to decide on a specialty, Caleb already knows he'll be completing his residency at a military institution before serving as an active duty physician. He's part of the U.S. Army's Health Professions Scholarship Program, which covers the cost of his med school tuition. Prior to entering med school, he was commissioned as a second lieutenant with the Army and will attend training and cover rotations at military hospitals during med school.
"It's a great program that will provide me with some very unique opportunities during my medical career, as well as learn from a wide variety of people," he says. "I'm not sure if I'll spend the majority of my career in military medicine or transition to civilian medicine at some point, but I think that I'll learn skills through the program that will translate into any field I decide to pursue."
Opportunities for success
And speaking of opportunities … just two years removed from Heidelberg, Caleb is appreciative of all that the Berg offered – from service learning trips to connections with professors, student organizations to athletics, and research to overall faculty guidance.
"Almost too many to count," he says. Each provided a different perspective and added to his overall experience. But he's most grateful for the liberal arts aspect of Heidelberg that allowed him to broaden his world. One of the best parts about Heidelberg is the ability to make a lasting connection with any student, staff or faculty member.
"Really, all of the opportunities I had at Heidelberg provided me with something beneficial, and helped shape me into who I am today."