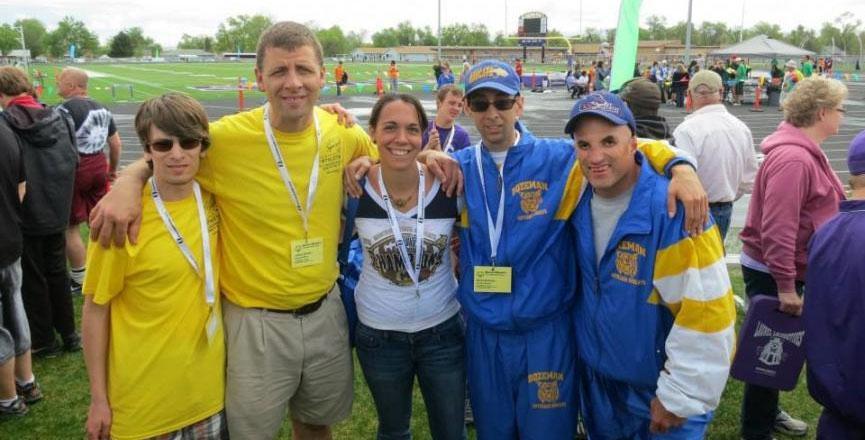 Sports are in Mandy (Hanning) Patriarche's blood. So is advocating for people with intellectual disabilities. She was able to marry the two when she became vice president of Outreach for Special Olympics Montana. For the last six years, Mandy, a '10 Heidelberg grad, has been living her dream in the place where her heart led her.
Currently, Mandy oversees the recruitment, training, management and retention of over 3,000 Special Olympics athletes and 4,000 volunteers stateside. She also has primary responsibility for the planning and execution of the area and state games, as well as marketing and communication.
It's a big and important job, yet one she didn't settle on right away. "For a while, I was interested in sports journalism and then documentary film making, but ultimately I knew I wanted to do something in the field of sports," she says.
The diversity of her classes at Heidelberg, coupled with seasonal employment out west as a college student and then a volunteer opportunity steered her to the Special Olympics. But a family connection motivated her to find and live her life of purpose.
Mandy grew up in the small town of Galion, Ohio, with a beloved uncle who had Down syndrome. Her grandmother, mother and older sister all work in the disability field. "Special Olympics means everything to me," she says. "Advocating for people with intellectual disabilities is in my blood." So finding an avenue to do that through her love of sports makes her work even more meaningful. 
Special Olympics is a great avenue to allow people to connect over their passion for sports and competition, and the perfect way for Special Olympics athletes to feel accepted.
"What keeps me coming back is seeing the difference our mission makes in the lives of not only our athletes, but volunteers, and ultimately, our communities," Mandy says. "Our athletes learn skills they can take with them into their daily lives … skills like teamwork, discipline and confidence. Our volunteers and communities get to see inclusion in action and then become advocates for it, in our schools, the workforce and local and national government."
Although she may be watching the games from the sidelines and working behind the scenes, experiencing the Special Olympics athletes thrive is reward enough for Mandy. At competitions, they demonstrate such excitement, appreciation and confidence that all of the effort is worth it, she says. "I love to see our athletes who now have the confidence to talk openly about their disabilities and not feel ashamed. I love to watch them advocate for themselves and have a platform where people will listen."
And the hugs and genuine love from the Special Olympics athletes … the value of those can never be understated.
But it's not all sunshine and roses. As with any non-profit, there are struggles. There are never enough volunteers, money or time, and the staff is constantly pushed to do more with less – serve more individuals, provide more opportunities, educate more people. "It creates a lot of pressure," Mandy explains. It can be a delicate balance, but the rewards easily outweigh the stress of it all.
The road to Montana
At Heidelberg, Mandy majored in sport management and communication. In her heart, she knew she always wanted to head West. During the summers while in college, she worked at Yellowstone National Park as a server. She fell in love with the mountains and ultimately, her husband, Jeff. 
After graduation, she was hired to oversee the training of the wait staff and management of all seven dining rooms at Yellowstone. She and her husband moved to Bozeman, and Mandy went to work in the Athletic Department at Montana State University, managing the football department and the booster club. A promotion to manage all athletic booster clubs and the athletic annual scholarship fund at MSU gave her the fund-raising experience she needed to land with Special Olympics Montana, first as a development director and now, in her current position as VP of Outreach.
Liberal arts and leadership
Today, a huge emphasis of Mandy's job is to increase volunteer and athlete participation through public education. The majority of her days are spent managing and advising staff and volunteers, onboarding and training volunteers and implementing health programming, inclusive practices, unified schools and local fund-raising.
She credits Heidelberg's liberal arts curriculum in large part for helping her develop a diverse skill set – especially leadership skills – that she uses every day. 
"I was able to really learn and explore a lot of different skills," she recalls. "I also gained a lot of confidence in my ability to learn. So many of my professors personally invested in my growth and it truly made me a more confident person.
"I still feel, even now, I could reach out to any one of them for guidance if need be."
She enjoyed her time as a member of the tennis team, where she learned time management, and as a leader in Delta Sigma Chi, where learned about group dynamics and where the seed of volunteerism was planted.
Small-school opportunities
As a communication major, Mandy took just about every course offered by iconic professor Dr. Gary Dickerson (now retired), and loved every single one of them. She thinks of "Doc" every time she gives a radio or TV interview, which is a frequent job requirement. 
"There were a lot of courses in the communications curriculum where I learned skills that I still use today," Mandy says. "Speech classes, debate, small group communication … the list goes on. I learned so much from all of those courses."
Heidelberg's small size was a major attraction for Mandy, although she may not have admitted it at the time she enrolled. She quickly found that the varied opportunities made for a rich undergrad experience. And she appreciated the access to her professors.
"The camaraderie on campus makes you feel like you truly have a family to lean on," she says. "There are plenty of opportunities for leadership in any activity that interests you."
Today, she's living her dream job in a dream environment, and she "wouldn't trade any of it for the world."