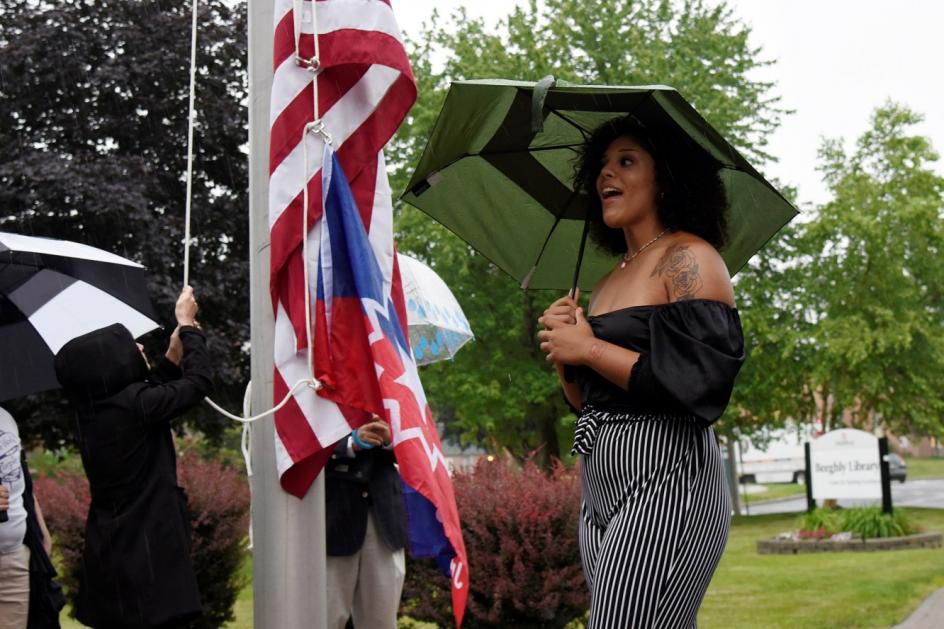 One day after President Biden signed legislation to make Juneteenth a federal holiday, Heidelberg University continued to "build on a sense of belonging on our campus and in the Tiffin community" during a rain-soaked Juneteenth flag-raising ceremony Friday.
The new law enshrines June 19 as the national day to commemorate the end of slavery in the United States. It is the first national holiday established since Martin Luther King's birthday in 1983. The ceremony Friday at Heidelberg is a precursor to a series of events in Tiffin and Seneca County this weekend to celebrate Juneteenth.
Shaun Gunnell, coordinator of Multicultural Student Affairs, emceed the program, held at Beeghly Library. As the flag was raised, the crowd listed to junior Alexandria Carter, a two-sport athlete from Spencerville, Ohio, perform "Lift Every Voice and Sing," the black national anthem.
Rev. Paul Sittason Stark, director of Religious Life and Civic Engagement, read a prayer in honor of the Juneteenth holiday, written by the Rev. Babette Chatman, university pastor at Augsburg University in Minneapolis.
The prayer reads in part:
"We in gratitude unite all of our hearts to reflect on where you have brought us from. As we enter this Juneteenth holiday celebration, let us remember all of our ancestors who longed to see this day come. Let us sing songs of joy and celebration.
"God, thank you for the freedoms we experience. Let us not take for granted at what cost we experience it. May we fill the land with songs of joy and thanksgiving in celebration in remembering your saving grace. …"
The prayer concludes:
"Lord, after a time of celebrating, give us the strength, motivation, fortitude and courage to continue to fight for social justice, equity, and to dismantle all systems of oppression and supremacy. In hopes that we all shall overcome one day."
Community celebration
The Tiffin and Seneca County community will celebrate the second annual Juneteenth at 7 p.m. Saturday at the Frost Kalnow Amphitheatre. Heidelberg will be well represented at the celebration. Participants include Faith Abrams and Hope Abrams, daughters of Dean of Student Affairs Chris Abrams, Shaun and Alex. Additionally, local clergy, educators and politicians will participate.
Following the program, the group will walk to the Civil War Museum to raise the Juneteenth flag, celebrating the liberation of African Americans from slavery on June 19, 1865.
Published on
Jun 18, 2021