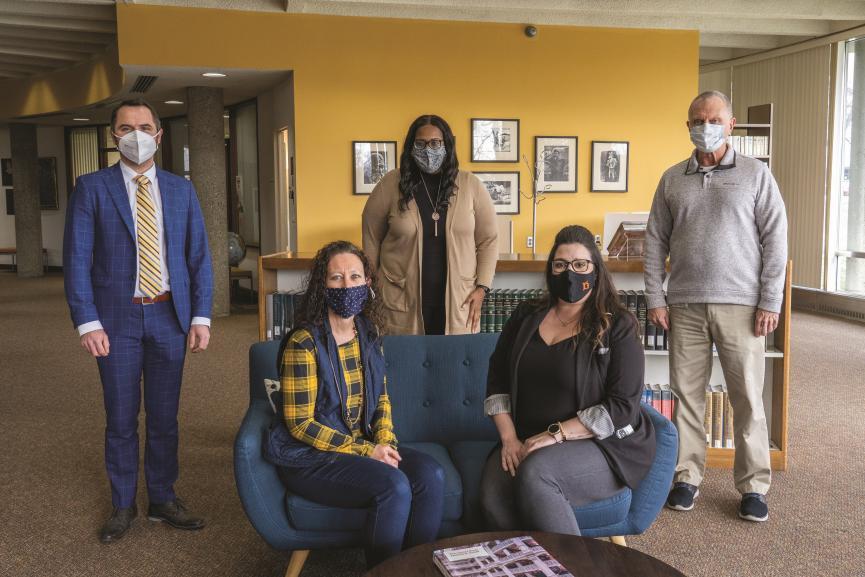 Heidelberg has announced the Phyllis & Leon Putnam Scholarship for Master of Arts in Counseling (MAC) Students in partnership with the Mental Health Recovery Services Board of Seneca, Sandusky, and Wyandot Counties and Firelands Counseling & Recovery.
With Seneca County designated as a health provider shortage area, this competitive scholarship is designed to reduce barriers for individuals interested in entering the counseling field but feel prohibited because of the cost. Students interested in working at Firelands Counseling and Recovery Services will have the opportunity to apply for the scholarship. Once selected, recipients will be integrated with Firelands through course projects and their clinical experiences and then onboarded as clinicians at Firelands upon graduation. 
With the needs of the community in mind, the scholarship provides both tuition for incoming students and loan forgiveness for graduating students. The goal is to continue two full-time scholarships for Heidelberg graduate counseling students for a period of five years and two loan forgiveness opportunities for a period of five years. 
"This partnership will make a powerful impact on an individual's access to crisis and mental health services in the immediate and long-term future," said Dr. Marjorie Shavers, LPCC-S, LPSC, associate professor of counseling and director of the Master of Arts in Counseling Program at Heidelberg.
Mircea Handru, executive director of the Mental Health Recovery and Services of Seneca, Sandusky and Wyandot Counties, agrees. "We are facing a shortage of community mental health therapists. This is the No. 1 challenge for our local behavioral health system," he said. "While we have been and continue to be successful in bringing resources into our community to work with local organizations to improve the quality of services or add innovative programming, we run into the same barrier over and over. We don't have the people to provide the work."
"This partnership with Heidelberg and Firelands will make a great impact in our community in the years to come," Handru said.
While the ultimate beneficiaries of the scholarship program and partnership will be the clients of Firelands, Heidelberg students also will gain valuable experience as they prepare to become mental health practitioners. "This partnership allows for our students to have strong experiences and make connections in the community, and it allows for us to be part of fulfilling a need in the community," said Dr. Meagan McBride, LPCC-S, CTRP, assistant professor MAC program.
In the spirit of service to the community, the scholarship has been named in memory of the legacy of Dr. Leon Putnam, late professor emeritus of religion and philosophy at Heidelberg, and his wife, Phyllis, who devoted her life to promoting social issues and to helping others.
Dr. Leon Putnam, a Harvard graduate, retired from Heidelberg after a 35-year career teaching religion and philosophy. He was an ordained Baptist minister and author of the book, "The Future of Faith," which he utilized in his Heidelberg classroom. He had served as a board member of Community Hospice Care and was a member of the Ohio Humanities Council.
Phyllis Putnam was a retired social worker in the mental health field in Tiffin and Findlay. She retired in 1997 as the first executive director of the Hancock County Board of Alcohol, Drug Addiction and Mental Health Services after having worked at the Tiffin Development Center earlier in her career. In the '90s, she established the local chapter of NAMI, the National Alliance of Mental Health. She was also associated with the Mental Health Recovery Services Board of Seneca, Sandusky and Wyandot Counties.
Published on
Jan 21, 2021
Programs
Master of Arts in Counseling