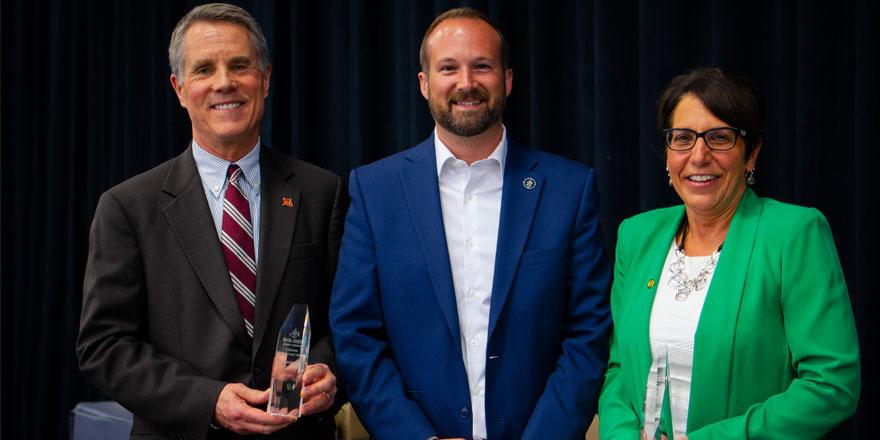 Heidelberg University and Tiffin University shared the Lifetime Achievement Award at the Tiffin Seneca Economic Partnership annual meeting Thursday night.
The award recognizes businesses, organizations or individuals with a continuous history of operation in the community. This year's award was presented by Tiffin Mayor and 'Berg alumnus Aaron Montz to the presidents of both universities, Rob Huntington of HU and Lillian Schumacher of TU (pictured.).
Together, the two universities were honored as employers of 500 full-time employees and are the fifth and seventh largest income tax generators in Seneca County. This year, the universities partnered to help create a quite zone to make railroad crossings safer, and they bring in a combined 100,000 visitors to Tiffin each year through events, athletic competitions and cultural arts presentations.
About 100 people attended the meeting Thursday, which was hosted by Heidelberg in Seiberling Gymnasium. TSEP and community leaders also presented awards to local economic leaders and partners for their contributions to community growth and investment over the past year. 
In reflecting on the past year and momentum going forward, the TSEP team noted that 2020 was an unusual but still productive year and that 2021 is off to a great start with a number of initiatives and projects underway. 
Congratulations to the other award winners for the evening:
Partnership in Development Award – Tiffin and Seneca CARES Act Small Business Relief Grant (City of Tiffin, Seneca County, Village of Bettsville, Village of Green Springs, Hopewell Township, Eden Township, Clinton Township, Bloom Township and Pleasant Township)

Economic Development Award -- Dorel – Ameriwood 

Entrepreneurial Spirit Award – Handshoe Cakes and Cookies

Entrepreneurial Spirit Award – Bill & Kelli Jones

Outstanding Business Award – MST Pub

Outstanding Business Award – Buffalo Wild Wings

Special Recognition – John & Linda Detwiler

President's Award – Beth Schweitzer