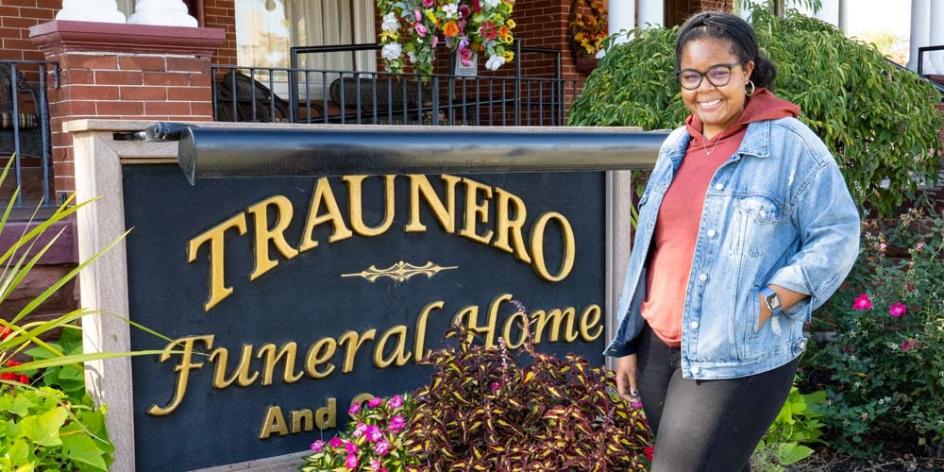 ---
Junior Kendall Wright isn't one to ignore opportunities. Quite the opposite. She doesn't hesitate to jump on them and get as much experience as she can.
At Heidelberg, she has checked a number of opportunities off her list:
Criminology major at the undergrad level … check! And pairing that with a second major in Biology … check, check!
Cadaver Lab experience … check!
Biology Teaching Assistant (next academic year) … check!
Marching and Symphonic Band …  check!
Kendall has impressed her biology professor, Dr. Pam Faber, with her proactivity, planning and work ethic.
"From our first conversation, it was clear that Kendall intended to seek out and build a set of academic experiences that she could leverage to her advantage as she applies for a coveted seat in medical school." Pam says.
She has done that – and more.
A jump on cadaver work
Because Kendall recognized the value of the Cadaver Lab in her prep for medical school and eventually a career as a forensic pathologist, she knew she needed to get a jump on that opportunity. So she approached Pam and politely petitioned to be allowed into the 300-level Anatomy & Physiology classes as a sophomore – a year earlier than usual. That would then allow her to take Pam's Cadaver Prosection class as a junior and hopefully serve as a teaching assistant her senior year.
"It has allowed me to be in the Cadaver Lab a little longer," says Kendall. "It's been amazing to have that extra hands-on experience in the lab."
She's no stranger to the lab setting. Last spring, after showing strong academic performance, she was selected to be a peer tutor in the Anatomy Lab for HYPE credit. Now, she's ready to take it to the next level.
"I feel more confident in my abilities and the path I'm on, and I feel good about what I'm learning and the opportunity to share it with others. This has been one of the strongest classes I've excelled at with all of the experience in the lab."
Opening the door on more opportunities
Kendall is "very excited" to stay in the Cadaver Lab for future research and possibly her Senior Honors project. And she'll get to share her knowledge and experience – as a teaching assistant for a Biology lab section this spring and for the Cadaver Prosection class next fall.
Of her future TA, Pam had this to say: "She is a planner, and is willing to put in the extra work necessary to grow professionally and personally. I am looking forward to the unique opportunity of having a student qualified to be a teaching assistant in the Biology 403 lab."
Wait! There's more: Job at local funeral home
And she's now getting even more experiential learning. Recently, Rich and Andrea Traunero, owners of Traunero Funeral Home & Crematory in Tiffin, recently hired Kendall as an assistant. In her first few weeks on the job, it's going great.
"I've gotten to shadow Rich in the embalming process," Kendall explains. "He allows me to be in the room … to see how it's done. I also get to help with cleaning and prepping and with preparing the body." Additionally, she's gone along to pick up deceased bodies and helped with funerals and visitations.
And all because her professor recommended her for the position. "She is quietly confident and overly mature for her age," Pam says. 
Kendall credits her experience in the Cadaver Lab in giving her a comfort level for handling these delicate tasks.
"It was weird at first, but I feel like I'm on the right track," she says. "I handled it. I was confident. It was weird but it came naturally. I love what I do and I love what I'm studying."
TV series spurs career interest
Kendall has known since she was in seventh or eight grade that she wanted to be a forensic pathologist. Part of the intrigue came from binge-watching the popular TV Series "Dexter," who lives a double life as a blood spatter expert and a serial killer who only murders the guilty. She also completed a law and crime scene investigation program in Washington, D.C., back in 2014 that solidified her interest.
With exceptional experiences under her belt, you can be certain Kendall won't stop until she reaches her goal of becoming Dr. Wright. She envisions both a medical degree and a Ph.D. in her future. Her zest for learning and becoming the best version of herself will carry her right into graduate school.
"When I get to the next level, I want to make sure I'm prepared and confident. I already have a taste of graduate school here, so it should be a smooth transition," she says.
Taking advantage of opportunities will be key, and that won't be a problem for this future forensic pathologist!
Published on
Oct 21, 2021