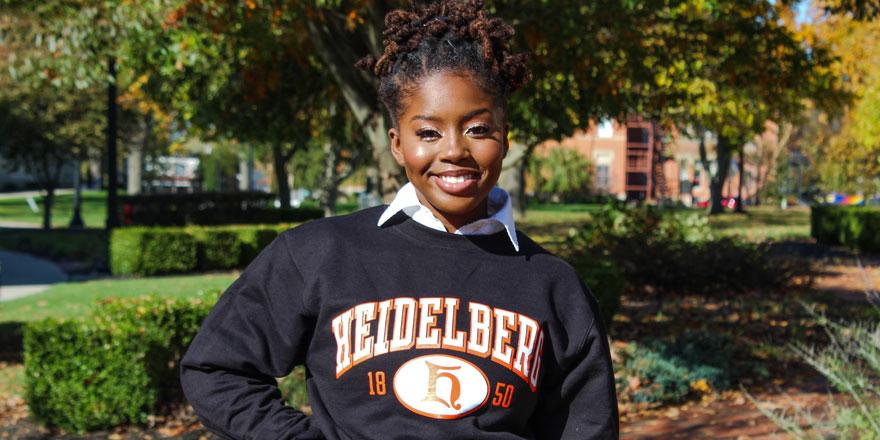 During this important week when we come together to reflect upon, learn from, be inspired to action by and celebrate the legacy of Martin Luther King Jr., there remains undertone of division in our nation, brought on by a series of very complex issues. Over the past months, social justice issues have grown in scope, dominating current events and many of our personal discussions.
Senior Ayanna Hayes, who is serving as the president of Heidelberg's Black Student Union this year, recently reflected on the reasons social justice issues seem magnified, as well as what BSU has done under her leadership to address them in a positive way on campus. 
Q: What are your thoughts about why social justice issues are under a magnifying glass now?
Ayanna: Social issues are magnified more now than ever due to the power of the media. Social issues have always been present but they haven't always been documented or caught on camera even. For this reason, I'm grateful for the advancements of technology. Otherwise, a lot of prevalent social issues would not be recognized. Social issues have always been issues. Now that they are on camera and right in front of our faces, we can't turn a blind eye to these issues. 
Q: Being from a large metro area, what has it been like for you as a person of color in a much different culture? How have you been supported at Heidelberg and in Tiffin?
Ayanna: I am from Detroit, which is a really big city with a very different population of people. I have honestly seen support in more people and places here than I expected. I am extremely grateful for Heidelberg because they are very willing to not only listen to issues that we as students of color may have, but they are also willing to make changes. I've seen other people from this area supporting the Black Lives Matter movement and so much more. People care and are doing what they can to make sure that students of color feel safe and comfortable in a place that they are unfamiliar with. 
Q: In your leadership role with BSU and personally, what are you doing to support each other and all students while at Heidelberg?
Ayanna: As BSU president, I would like to say that pretty much every event we've done has been in an effort to uplift others' voices. I have organized many things from peaceful demonstrations, open mic nights, to teaching about microaggressions against all people. I am an outspoken advocate for all people and I speak up when I see injustice anywhere. I've done a lot of work at Heidelberg to help students feel welcome and appreciated. 
Q: What's your hope for people in small towns regarding social justice issues and their prevalence in our world today?
Ayanna: I hope that people know and understand that just because it isn't happening here, doesn't mean that it's not important. The country and the world's issues are all our issues because this is where we reside. As Martin Luther King Jr. would say, "Injustice anywhere is a threat to justice everywhere". Your voice matters. Your stance matters. No matter where you are, you can make a difference. 
Q: With the Martin Luther King Jr. holiday earlier this week and Heidelberg's celebration throughout the week, what would you like for people to remember most about his life and legacy – more this year than others?
Ayanna: I hope people take away what I just quoted. "Injustice anywhere is a threat to justice everywhere". There cannot be peace without justice and vice versa.  Dr. King's vision has not been sought out yet and there is still so much work to be done because the vision was so much more than just a vision. It is our right as human beings to live in harmony and peace amongst each other. We owe it to ourselves to live out this vision.
*This is modified from a front-page story that appeared in The Advertiser-Tribune on Jan. 20. Marketing & Communication thanks Ayanna for working with us to provide content to the A-T for this story.
Published on
Jan 21, 2021