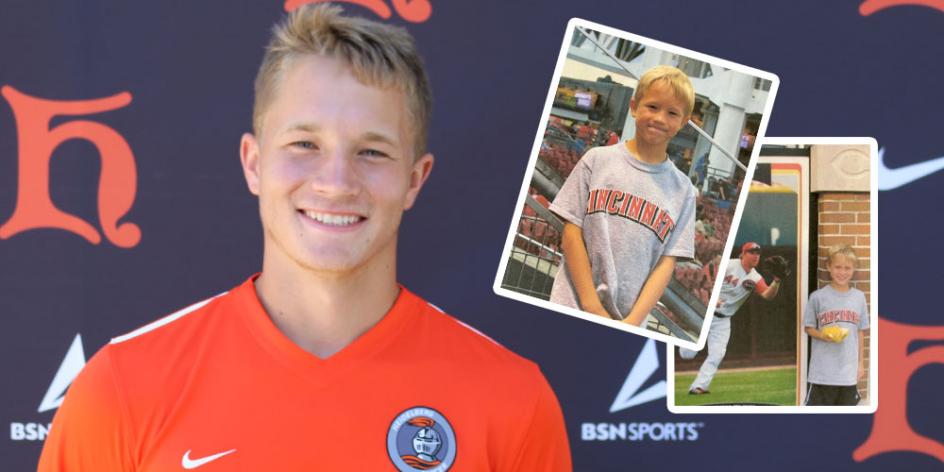 ---
Even though he's a big New York Yankees fan, December grad Sam Federici has always had a special place in his heart for the Cincinnati Reds. Cinci is his mom's hometown, and he spent a lot of time going to Reds game as a kid.
Come March 1, his association with the Reds will take on a different tone. That's when Sam will begin a marketing internship with the Reds.
"Ever since I was a kid, I had always dreamed of becoming a member of a professional sports franchise, either as a player or in the front office," says Sam, who began the PlusOneAdvantage® Full-Tuition Scholarship MBA Program this semester. "This opportunity that has been given to me is a dream come true."
He's looking forward to learning the in's and out's of professional baseball marketing. He'll also have an opportunity to learn the science behind turf management and what goes into marketing a top-tier stadium such as Great American Ball Park. And despite the pandemic, he'll be able to complete the majority of his internship in person.
"I'm hoping to take away a better understanding of what it takes to be part of a professional sports team's front office," Say says. "I also hope to make several connections within the organization that can help propel me into a future job in sports."
Maybe as a general manager of a franchise? Like the NFL, MLB or MLS? "My goal has always been to become a general manager of a professional sports franchise."
Sam credits two previous internships, his business classes at the 'Berg as well as his days as captain of the 'Berg soccer team for creating a strong foundation in business and leadership skills that help him motivate others.
The PlusOne Program will take those skills to the next level. "The PlusOne Program is actually why I decided to come to Heidelberg," he says. "It was an opportunity that I couldn't pass up."
Before officially becoming a member of the Cincinnati Reds organization, Sam interned with the Lake Erie Crushers, a minor league baseball team. With the Crushers, he worked in the promotions / marketing and accounting departments. The past two years, he has interned at the Findlay Country Club as part of the grounds crew. The value of all of these internships can't be understated, he says.
"I've gained the knowledge of how to cooperate with people from different backgrounds, communicate across different layers of organizations, among many other things. Internships are very important for getting that first job!"
Bring on the MLB season! For Sam, it can't get here soon enough.