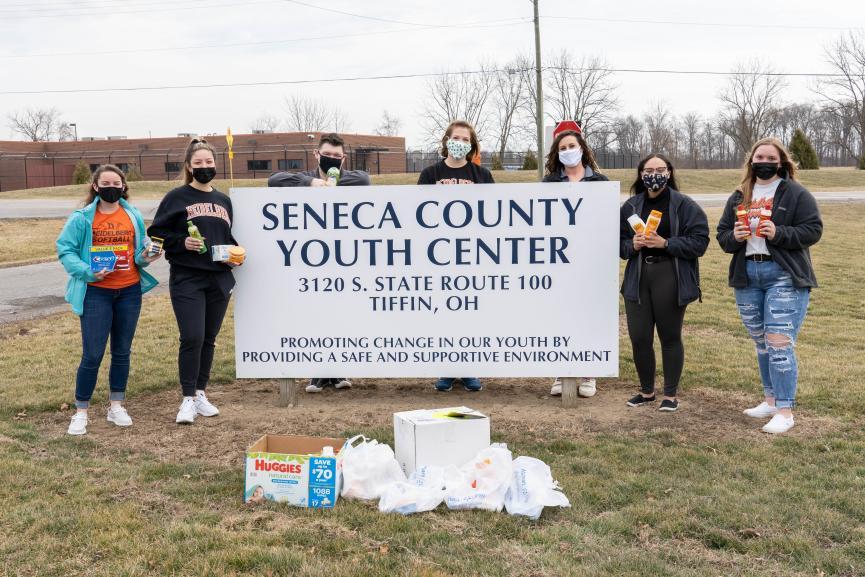 If you're a person of color who is shopping for items such as hair care products, access to items is limited at best.
"It can be a challenging to find hair care for people of color, especially in communities like Tiffin, including finding someone who knows how to cut your hair" says Criminology Professor Dr. Sarah Lazzari, who is also the mom of a child of color.
Sarah is also the advisor to Alpha Phi Sigma, the criminology honorary here on campus. On the heels of Martin Luther King Jr. Day in January and Black History Month in February, Alpha Phi Sigma members were motivated to do a service project relative to people of color and at the same time, connect with the local criminal justice system.
After brainstorming several ideas, Alpha Phi Sigma kicked into action and launched a month-long donation drive on campus in February to collect hygiene items – with an emphasis on kids of color -- for youth incarcerated at the Seneca County Youth Center. 
They quickly found out they were not alone in their efforts. "As we were thinking through how we wanted to gather items, we decided to reach out for help," Sarah says.
As a chapter, they received a $250 grant from the national Alpha Phi Sigma organization, which they designated partly for supplies. Additionally, a connection that Sarah has with fodada, a clothing company in California, proved valuable. Founder of fodada, Bobby Barzi, provided 25 sets of shampoo, conditioner, and leave-in treatment toward the effort.
And then, the Heidelberg community came through. Students placed donation boxes around campus. Parkhurst Dining GM Tony Ippolito arranged for donations of toothpaste, body wash and deodorant, about 100 items in all. Heidelberg's Disability Advocacy Division also pitched in, helping to post flyers, check donation boxes and gather items at the end of the drive
On Thursday, March 11, members of Alpha Phi Sigma, along with Sarah, delivered the collected items to the Youth Center, with more to be delivered this week. Along with Sarah and Alexa, students Courtney Bryson, Fletcher Grey, Mya White (Alpha Phi Sigma vice president) and Jessica Voitko presented the items to Sarah Canalos, director of the Youth Center. Also assisting with the donation drive were Jessika Costmire (secretary) Haley Cruikshank (treasurer), Brooke Franz, Kendall Wright, Madison Leiser and Ainsley Tucker.
Published on
Mar 15, 2021