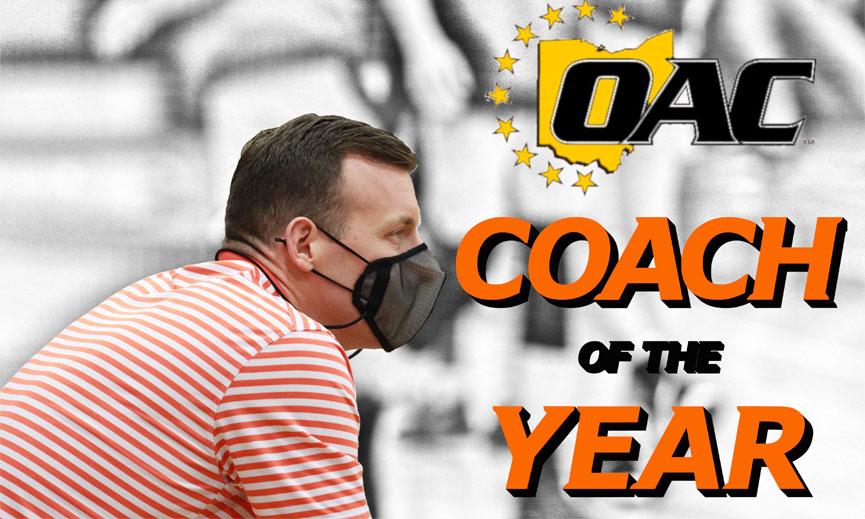 On Thursday morning, the Ohio Athletic Conference announced the men's basketball all-conference team selections. Heidelberg University was well represented, with Head Coach Andy Bucheit, players Dylan Woods, Alex Arellano, and Emmanuel Perdue receiving honors
Bucheit was named OAC Coach of the Year after a season in which he helped guide the Student Princes to a 9-2 record in the regular season.  He becomes Heidelberg's first recipient of the honor, which has been awarded every season since 1969.   
Woods, the top scorer for the Student Princes with 17.4 points per game, earned a spot on the first team. The senior recorded a 38-point game at No.2 Mount Union on Feb. 12. Woods also dished out 40 assists and recorded 18 steals on the season. 
With the honor, Woods -- an honorable mention in 2019 and 2020 -- becomes the 14th Heidelberg player to earn first team accolades.  The last 'Berg player on the first team was Myron Prewitt (2019).  
Arellano was selected to the second team lineup. The fifth-year player was an all-around threat for The 'Berg with 13.0 points and 5.5 rebounds per game. Arellano made 26-61 (36.1%) from 3-point range and was accurate when it counted. He also led the squad in blocks with 17 and dished out 24 assists. 
Perdue was named an honorable mention for the 2021 season. Averaging 14.2 points and 4.6 boards per game, the junior was a threat in shooting and under the basket. Perdue recorded a team-high 21 steals and seven blocks in the shortened season. 
The Student Princes started their season off 6-0 in conference play, the first time since the 1949-50 season. Heidelberg found themselves ranked in the D3hoops.com Top 15 on two separate occasions.
Published on
Mar 11, 2021