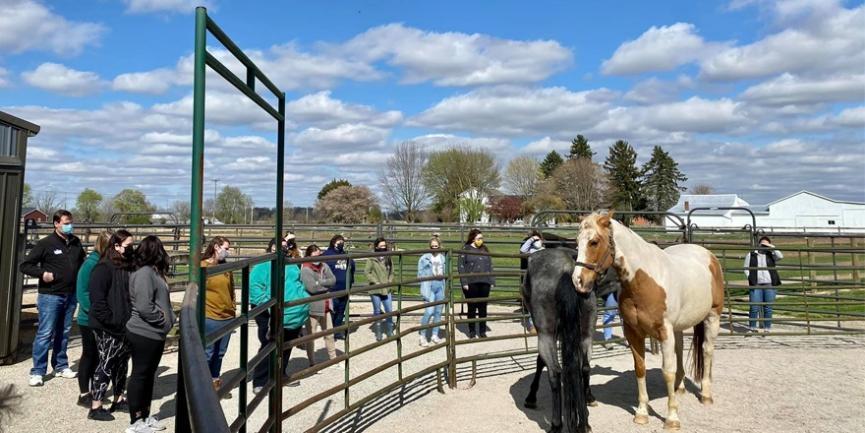 What better way to spend a weekend afternoon than with some majestic creatures? Graduate counseling Professor Dr. Meagan McBride just piloted a new course that utilizes the stunning horses at Greenfield Stables to teach future counselors a different type of trauma intervention.
Meagan's weekend seminar course is delivered in four components: three via zoom and learning management software and one – the really exciting part – was completed on site at Greenfield Stables, complete with interaction and observation of the horses there.
The seminar is a "trauma intensive" that explores equine-assisted trauma sensitive services "by taking a look at trauma through a systems lens," she explained.
The enrolled students ventured to the stables the weekend of April 17 and partnered with Natural Freedom Wellness Center and Greenfield Stables for part of their one-credit-hour course.
"This intense focus on trauma work and trauma interventions sets these future counselors up to best serve their communities," Meagan said.
From the Master of Arts in Counseling program perspective, the course is part of an ongoing deep dive into the curriculum to find better and innovative ways to meet the needs of the graduate students and creatively deliver course content.
MAC has partnered with Natural Freedom Wellness Center and "we have loved our relationships with Lane of Dreams, LLC and Greenfield Stables," Meagan said. These equine barns have worked with the MAC program to showcase the integrative services available.
"These local partnerships are vital and really help connect the campus community to the local community and culture," she added.
But there are other benefits … important and meaningful ones! For the first time in over a year, Meagan was able to interact with her students in person because the course was held outdoors. "It was incredible to be in a shared space with them again.
Additionally, she had the honor of teaching the course with Mo Stohlman, a '20 graduate of the program who is now a doctoral student and professional counselor. To see former students like Mo succeed and thrive is a true joy for professors.
It was a great weekend on every level.
Published on
Apr 27, 2021
Programs
Master of Arts in Counseling