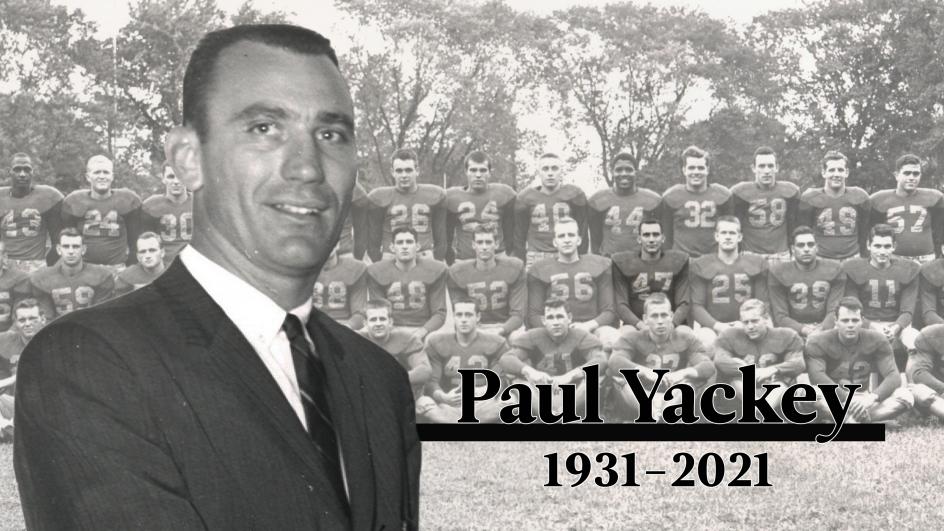 Paul Yackey '53, a Heidelberg football legend and a former university vice president, passed away on June 7, 2021.  He was 89 years old.

A native of Dover, Ohio, where he was inducted into the Dover High School Athletic Hall of Fame in 2019, Paul decided to attend Heidelberg.  Under the tutelage of Paul "The Fox" Hoernemann, he is credited with many record-setting performances on the gridiron.

Nicknamed "Sparkler," Paul was a three-time all-American and averaged 6.3 yards per carry, never losing a yard over the course of his career.  He amassed 3,084 rushing yards and scored a total of 38 touchdowns.  He would have undoubtedly accrued more yards and touchdowns, but during his time on campus, freshmen were not allowed to compete at the varsity level.  These accomplishments earned him one of just 10 spots in the inaugural class of the Heidelberg Athletic Hall of Fame in 1985.  Like his brother, William (Bill) '50, Paul wore No. 47 on the gridiron.

He also played basketball and served as captain his senior year.  He tallied more than 400 points in three seasons on the varsity basketball team.

Paul met his wife, Marilyn (Harrell) '54, while both were students at Heidelberg.  They were married in 1953.  He was drafted by the NFL's Baltimore Colts, but decided not to sign a contract, instead entering the United States Army in 1953.  While at Fort Bragg, Paul continued to play football.  He was transferred to Germany in 1954.  During his service there, he was chosen to be head coach of the 102nd Infantry Regiment for both football and basketball.  As head coach, the 102nd Infantry Regiment won both the football and basketball Infantry Division Championships.

After the Army, Paul accepted a position in Pasadena, California, as Athletic Director of the YMCA.  He became Assistant Executive Secretary of the main branch YMCA, and was promoted to Executive Secretary.  During his time in Pasadena, all four of his children were born.

Paul returned to Heidelberg in 1963 when Hoernemann appointed him Alumni Director.  After Hoernemann's unexpected passing in 1965, Paul assumed the title of Assistant to the President and was eventually promoted to Vice President.  During his nearly two decades of service to the college, Paul played an instrumental role in Admissions and Enrollment, Alumni and Church Relations, fundraising, the Business Office, and long and distinguished campus development. Additionally, he aided in increasing Heidelberg's endowment.

Paul was active in the Tiffin community.  He was a head coach for the Babe Ruth Baseball League, president of the United Way, president of the Chamber of Commerce, chairman of the Sesquicentennial, president of Tiffin AAA and president of AAA of Ohio.

After a distinguished career in higher education, which included time at Westminster College, Randolph-Macon College and Iowa Wesleyan University, Paul and Marilyn retired to Naples, Florida.  In addition to his wife, Paul is survived by four children, Britton of Chicago, Merritt and Damon of Sewanee, Tennessee, and Kristyn of Royal Palm Beach, Florida; six grandchildren, three great-grandchildren, and his brother William (Bill) '50.

Memorial donations may be made to the Paul H. Yackey Family Scholarship Fund – Heidelberg University.