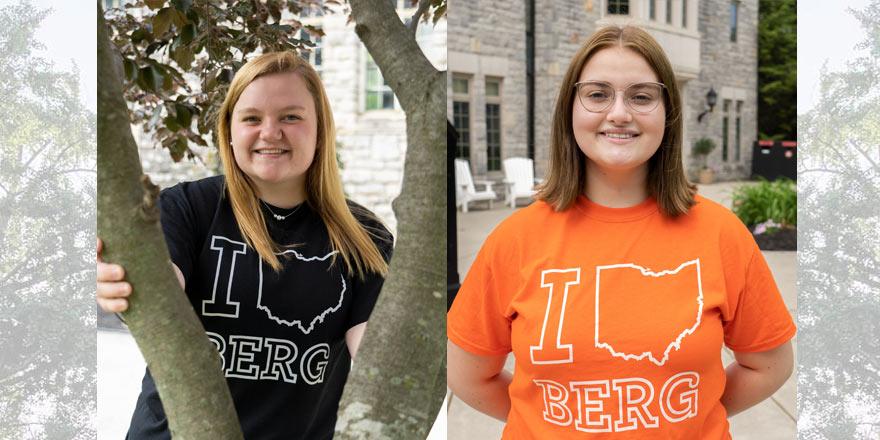 Each individual student is as unique as the path they choose -- from the Honors Program to a double major or double minor choice. Involvement is the key to both academic success and personal success; it is a way to enhance ourselves, gain work experience and to have fun during our time here.
Cassey Bolyard, '22
Why did you choose to come to Heidelberg?
"I chose to come to Heidelberg because on my first visit, it felt like home immediately. The excitement of the staff and the Orientation Leaders made me feel welcomed."
What is your favorite thing about Heidelberg? 
"The impressions on my first visit were restated during my time here. My favorite thing about 'Berg is the community feeling. My favorite event is Late Night Breakfast." 
Are you involved in any extracurricular activities?
"My major involvement is in Greek Life. In fact, I am part of both the traditional Delta Sigma Chi and the corollary of EX fraternity: the EX Girlfriends. The major pro of being an active member in Greek life is that it allows you to put yourself out there and meet new people outside of your regular friend group. Some of my best memories from Heidelberg are from Greek life."
What advice do you have for first-year students that you wish you knew coming in? 
"College is what you make of it, what you put in is what you get out. Therefore, a good piece of advice from me is to get involved and try new things!"
Jocelyn Everett, '24 
What is your favorite thing about Heidelberg? 
"My favorite thing about Heidelberg University is how quickly a student can get to know people around campus and start finding where you feel most at home. Not many events have been able to reach their full potential this past year, so my favorite event has been the small activities I've been able to do with my friends. I had the most fun during the heavy winter snows when we went sledding down the hills behind the stadium."
Are you involved in any extracurricular activities?
"I am a member of the Philalethean Society and Enactus, and I am enrolled in the Honors Program. Being both a member of the Phis and the Honors Program, I've been introduced to some very positively influential people in my life -- people with whom I then joined Enactus. Students at Heidelberg are always lifting each other up, and because of these activities, I have pursued opportunities, gotten jobs, and held myself to higher standards. I am going into my sophomore year of college with so many options and open doors because I involved myself in these extracurriculars and met amazing people."
Which professors -- or staff members -- have helped you the most during your time at Heidelberg?
"As a student, I am more reserved in the classroom, but this year I found myself speaking out during class and being influenced by professors much more. My first business class was taught by Dr. Helena Theixos; she inspired me to promote myself to future employers. Another professor, Dr.  Barry Devine, was able to put on COVID-safe in-person discussions. It really helped me connect to my peers and professor when other classes could not do the same."
What advice do you have for first-year students that you wish you knew coming in? 
"My best advice for first-year students is don't be afraid to email professors or students when you're confused. So many student-led groups on campus are looking for new members, and they want you to email them questions. If you are taking a course and you know you will be struggling with the content, don't be afraid to email the professor and let them know. It shows you're going to put in the effort."
---
One of the best things about being an Orientation Leader is the opportunity to meet new prospective students, the future members of the Heidelberg community. Through the summer, both Cassey and Jocelyn got the chance to share their experiences and get to know the wonderful students who will be part of the 'Berg family in the fall.
Written by Stefania Fiume
Published on
Jul 13, 2021